NEWS
'American Idol' Elimination Interview: Casey James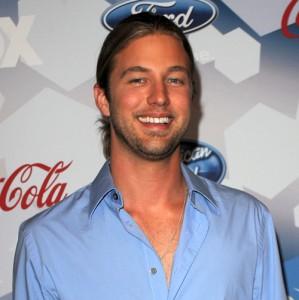 American Idol's eliminated contestant Casey James told reporters in a press conference call this morning that he has no regrets about finishing just short of the shows finale. He just cant wait to make his own music.
"Next is a record," Casey said. "Its time to get started. Music is what I love. Its go time."
The golden-locked singer/guitarist, 27, was cast off from the show on Wednesday, sending Crystal Bowersox and Lee DeWyze to the finals next week. But he insisted hes not bummed by finishing third.
Article continues below advertisement
'AMERICAN IDOL': WHAT WASN'T ON TV FOR CASEY'S ELIMINATION
"I'm the kind of guy that accepts what happens and is always happy about it. Im definitely happy with where I landed. Everything happens for a reason, you just have to roll with it. Im going to make the most of it," he promised.
Casey, who survived a life-threatening motorcycle accident six years ago, said of the grueling Idol experience, "Any situation in life thats difficult, you just do what you can. It definitely is demanding. But the payoff was 100 percent worth it."
He added about his Idol journey, "I'm very honored and happy and proud of everything that Ive accomplished. This will die down and very soon there will be the next person in my situation. Im looking forward to trying to keep the audience that I have."
OK! EXCLUSIVE: ADAM LAMBERT TALKS TOURING, 'AMERICAN IDOL', & BIEBER FEVER
Incredibly, although he shot to fame on the reality show, Casey revealed on Idol that he didnt have a television.
Article continues below advertisement
When asked today to elaborate on that, the singer did, saying that when he was about 7 or 8, "lightning struck my mothers house and blew out the antenna on the TV and we just never got another one. I guess it wasnt that important to us. Growing up without it, I didnt see all the things that everyone else saw on TV and thought was cool, to do this or that, fashion things and hip things that were going on so it led me to be my own person a little bit more and to do my own thing. Im glad it worked out that way. It gives you more time to do other things."
Although judge Kara DioGuardi gave Casey a beefcake image by making him take his shirt off then sending him through during the first audition, Casey later showed his true humble and laid back personality on Idol.
The singer claimed he didnt mind that the shirtless scene gave him his start on the show. "Who's to say I would be here had I not done that, he chuckled. Hopefully thats not what I am now but It obviously worked out."
Article continues below advertisement
OK! 'AMERICAN IDOL' LIVE BLOG: TOP 3 RESULTS SHOW
Although Kara told him during his final show that his demographic is women, Casey said he's more well rounded: "Thats her opinion. Im not offended.but I definitely would like to think I have a few more people out there that like what Im doing."
Many think the final songs he performed on Tuesday didnt have enough oomph, and Casey revealed that song choice WAS a struggle for him.
"Time limitation is a real issue when you get to pick a song. There were so many songs that I love to do and if I had three minutes, it would have opened up a whole new realm of possibilities, but when you have a minute and a half to work with, you have to use that tothe best of your abilities. I went with what I thought was best for the show in that time limitation. Thats why I picked what I picked."
Casey wished finalists Crystal and Lee well as they prepare for the big competition next week: "Obviously Im happy for them. They both have very unique and standout sounds. They are who they are. Its going to be a crazy good show."
When pressed to describe the final two more, however, Casey demurred, saying, "I dont know how to answer that."
By Carole Glines