NEWS
'American Idol': What Wasn't on TV for Casey's Elimination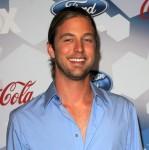 Casey James was eliminated from American Idol on Wednesday night, sending Crystal Bowersox and Lee DeWyze to next week's finale of the hit Fox reality show.
OK! INTERVIEW: IDOL CASTOFF MICHAEL "BIG MIKE" LYNCHE!
Most expected after Tuesday night's performance show that Casey, 27, would bite the dust, so the results were no surprise at the CBS Studios taping. However, the audience was still energized, showing a lot of enthusiasm for the two left standing as the final battle looks like it will be a close one.
Article continues below advertisement
"It seemed like everyone in the crowd thought it would be Casey's final night on the Idol stage," an eyewitness at the show said. Many believed he underachieved all season, often following up a strong performance with a snooze-worthy one. And on Monday night, both his versions of the songs, "OK, It's Alright With Me" and "Daughters" fell flat. Judge Simon Cowell was even seen giggling as Kara DioGuardi praised his last performance—it was clear he felt Casey had done a poor job.
"Did viewers agree? Apparently so, because when host Ryan Seacrest announced that Casey was going home and Lee and Crystal had gone through, the fans at the taping were cheering the finalists more than mourning Casey."
OK! NEWS: AMERICAN IDOL'S CRYSTAL & LEE - IN IT TO WIN IT
When the night began, the nine Idols who had already been eliminated from the top 12 this season joined the top three onstage to help present Fox reality chief Mike Darnell with a birthday cake. "Big Mike Lynche, who was just eliminated last week after making it to the top four, wheeled out the cake and Mike Darnell blew out the candles. Ryan told the audience, "he hired all of us!' as judges Randy Jackson, Ellen DeGeneres, and Kara mingled onstage with Darnell, the Idols, and other show producers and crew members," the eyewitness said.
Article continues below advertisement
"The crowd was thrilled to see the eliminated Idols all take seats in the audience to learn who would make it to the finals. The Idols did a lot of socializing, with Didi Benami chatting with Ryan, Big Mike waving to the crowd, and Paige Miles and Siobhan Magnus hugging each other.
"Lee had a long chat onstage with Ellen before the show started, while Randy talked to Crystal and Casey. Ellen did a little of her trademark dancing just minutes before air time to get loose as the crowd laughed. The packed audience showed the most energy it has all season."
OK! NEWS: RYAN SEACREST DISHES ON AMERICAN IDOL
In hometown visits broadcast on the show, all three remaining Idols got emotional about making it so far. Casey returned to Fort Worth, Texas and visited the hospital where doctors had saved his life after an awful motorcycle accident six years ago. Casey's mom Debra recalled for TV viewers how she put his guitar next to him in the hospital bed to inspire him to recover.
Article continues below advertisement
Just days before the final three, Debra had exclusively told OK! more of her son's story. She said, "It took him a year to learn how to walk. He was in a wheel chair for about six months. It was a very, very long recovery. And he hurts still. He doesn't ever say it, and he won't say it, but he hurts everyday. He's got way limited motion on his left wrist. I don't know if he even wants me saying this, but he just pushes through it. He just doesn't complain."
CLICK HERE FOR ALL OF OK!'S AMERICAN IDOL NEWS!
Before Casey learned his fate, the usual show filler ate up time. Justin Bieber sang, and celebrity blogger Perez Hilton sat in the audience to support his discovery, singer Travis Garland, who performed his hit, "Believe" on the show. "The Idol judges spent a long time during a commercial break talking to Perez, and when Simon shook his hand, Perez pulled Simon toward him into a hug," the eyewitness said. Perez, of course, has made no secret of the fact he'd like to replace Simon as an Idol judge next season.
Article continues below advertisement
Meanwhile, Simon, who has just one week to go on Idol before he leaves to work on his next oxX show, The X Factor, was "much more involved in the crowd than usual on Wednesday night. He and Kara greeted a child in a wheelchair in the audience and Simon kindly tweaked the boy's nose. Later, Simon signed a bunch of autographs for audience members, which he hardly ever does during tapings."
OK! NEWS: IDOL'S MICHAEL LYNCHE - "THE PLAN IS TO PUT OUT A GREAT ALBUM!"
But the contestants were still front and center. "Crystal got very emotional watching her hometown visit segment to Toledo, Ohio, and was still wiping tears away when cameras stopped rolling," the eyewitness said. "But Lee got the biggest hand after his hometown visit to Chicago, in which he sang Simon and Garfunkel's "The Boxer" to a stadium full of fans and his folks sang along with him with tears in their eyes.
Article continues below advertisement
"When Lee was the first one to be told he was going to the finals, the audience erupted! Then, when Crystal was named a finalist over Casey, Lee picked her up and swung her around the stage. Simon seemed most happy about Lee's success, giving him a pat on the neck after the show for a job well done. It's no secret Simon has championed Lee all season.
"After the show went off the air, the warm up comedian shouted, 'give it up for Casey James' and fans gave him a last cheer, but all eyes were on the final two. Casey, typically laid back, left the stage quietly as Crystal and Lee did a coin toss to determine in which order the singers would perform next Tuesday. 'This is awesome, by the way,' Lee smiled to the crowd to more cheers. 'Ryan doesn't know how to toss a coin!' stage manager Debbie Williams cracked. The host agreed, 'I'm really not good at this,' but did his duty, Crystal won the toss, and chose to perform second, telling Lee, 'promise not to hate me.' Crystal put herself in the strongest position by choosing to sing last and making the final impression with fans next week," the eyewitness explained.
OK! NEWS: AMERICAN IDOL'S MOVIE NIGHT WITH JAMIE FOXX
But for Casey, it was not to be, as the golden haired hunk who got through his first audition by taking his shirt off for Kara was too lackluster in the final stretch and missed his shot at Idol glory.
Still, he has made his mom proud. As Debra James recently told OK! "Win or lose, Casey will play music. He just wants to do what he loves to do and what he was born to do, and that's it. And he'll do that whether he's playing to five people in a coffee shop, or he'll do it playing to 50 thousand. It makes no difference to him. He just wants to be able to make a living doing what he loves."