NEWS
'American Idol' Finale: Crystal & Lee Go Head-to-Head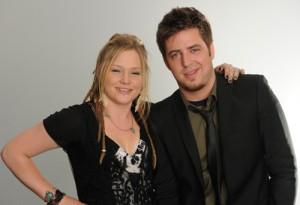 Who would have thought after 7 audition cities, thousands of contenders, the battle for the title of season 9 American Idol would all come down to Crystal Bowersox and Lee DeWyze, a couple of 24-year-old Midwesterners who both auditioned in Chicago.
Each of the contestants sang three songs a piece: one was a song of their choice from weeks past, the second was a song chosen by American Idol creator, Simon Fuller, and last will be the winners first single.
Article continues below advertisement
Even though excitement was in the air to crown the next Idol, a bit of sadness also filled the AI arena as well — it was Simon Cowell's last night of snappy and crudely honest remarks of his Idol career. Crystal "Momma Sox" Bowersox was the last contestant to receive criticism from the sharp-tongued judge.
"That was amazing!" Crystal told reporters of the history-making moment. "Simon has been great all season long, and throughout the show. Hes just a good guy. He knows whats going on. I wish him well."
OK! VIDEO: ELLEN SHARES AN IDOL PRANK
Lee describes his feelings before hearing Simon's critiques.
"You know that feeling like, right before you hit something with your car? Like, when you think you might miss it, but then you're like, 'Whoa!' Its like that, because you know it can go one of two ways. It could be a scratch or a dent."
Article continues below advertisement
OK! NEWS: AMERICAN IDOL ELIMINATION INTERVIEW — CASEY JAMES
Simon, who also mentors and judges on his British reality TV show series, The X-Factor, spread the love by affirming Crystal as the female to beat with her strong performances. Throughout the season, Lee's confidence was constantly questioned, and last night was no different.
"If I wasn't confident, I wouldn't be able to do this," Lee said defending himself. "You have to have confidence to do this, and I do I feel really good about my performances."
The bluesy Momma Sox sang her rendition of Janis Joplin's "Me and My Bobby McGee," Simon Fuller chose Alannah Myles' "Black Velvet" for the crooner who than chose "Up To The Mountain" for her final performance.
Article continues below advertisement
OK! NEWS: CARRIE UNDERWOOD WON'T NAME IDOL PICK
"I picked "Up To The Mountain" because its just an amazing song about getting through tough times, and coming out being okay," Crystal told reporters. "You pushed me long and motivated me, the fans, my family, and everything in my life has lead me to here now."
Rocker Lee sang his rendition of Simon & Garfunkel's "The Boxer," Simon Fuller chose R.E.M.'s "Everybody Hurts," and the Chicagoan chose U2's "It's A Beautiful Day" for his final performance.
OK! INTERVIEW: IDOL CASTOFF MICHAEL "BIG MIKE" LYNCHE
Lee who usually seems calm and collected, explained his performance-nerves.
"It's not easy performing in front of 7,000 thousand people in a situation like that," Lee said, "And throughout the season the word 'confidence' has come up with me a lot."
After their performance tonight, both Lee and Crystal have their eye on the ball: the American Idol crown, which will be announced on the results show tonight on FOX.
"We've done everything we can up to this point," Lee explained. "You put everything out there. And you hope for the best. That's all I am going to do."
Crystal who has been a bit one of the more subdued and discreet contestants of the season says if she wins, "I am personally really interested in how I react tomorrow, because I might hoot and holler or something."