NEWS
OK! Interview: 'Idol' Castoff Michael "Big Mike" Lynche!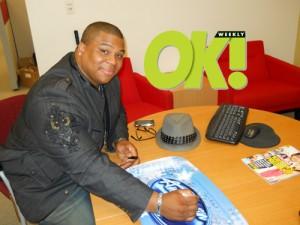 Michael "Big Mike" Lynche may have been initially voted off at Top 9, but thanks to the judges' save, the 26-year-old from St. Petersburg, Fla., made it all the way to the top 4 with his R&B stylings. Big Mike paid a visit to the OK! offices to talk about everything from how funny Lee DeWyze really is, to his favorite Idol, to the reality show that he would love to star on with his wife!
Were you expecting to be voted off?
Article continues below advertisement
No, a winner wants to win and always expects to win and should. I did know that just being an R&B singer in the American Idol world, it doesn't always fare as well. You feel like, maybe at some point, but I definitely felt like I had the goods to take it all. The goal is to have a career after. I think I worked hard enough and got to stay on the show long enough to show enough of myself that I will get the opportunity to work. For me, top 4 was probably the farthest out that I would have been okay with. It's not so so bad.
OK! NEWS: AMERICAN IDOL'S CRYSTAL & LEE IN IT TO WIN IT
What was it like when you were voted off before you got saved?
I just stayed very focused on the task at hand. I get very intensely focused on whatever it is I'm doing. At that moment it was about singing lights out and leaving no doubt that I should still be in the competition. I thought going into the whole season that I liked the idea of singing for your life. Being given the idea to sing for my life and sing for my family and my family's future, that I could stand tall in that moment. You want to do your work on Tuesday night so that you don't get in that predicament. I thought I did really well on the Tuesday night and I woke up the next morning with that feeling to be prepared. It was the first time all season that I went over my save song. I thought about if all three girls are safe, because we'd been losing a girl every week, it just bodes well for the guys if another girl is in the bottom. But the first thing Ryan did was make all three girls safe. So then I thought if Tim Urban stays, it doesn't look good for me. The teenyboppers were really having their voice be heard. And then Tim Urban was safe. I was like, "Good thing I prepared."
Article continues below advertisement
OK! NEWS: AMERICAN IDOl'S MOVIE NIGHT WITH JAIME FOXX
At that point, it was down to me and Andrew Garcia and I wanted it to be me. I felt in that moment that I could stand tall. I never wanted anybody to go home any week. It was cool that we could all still be a family, the 9 for two weeks. I didn't want to see my buddy Andrew to have to go through that. The song that he had picked he didn't get great feedback on. It would have been better for me to do it. And I did and succeeded, and we got to stay the 9 for another week.
And you lasted longer with the save than Matt Giraud did last season?
Yeah, it's interesting to me the fans out there who don't like the save. You get to see that group for another week. Nobody has to be sad. It's not like the competition drastically changes. Everyone gets to stay. I think the save is great, the judges saying that we believe in you and we want America to see that again and give you another chance. That's an amazing thing and really speaks to how you approach the competition. I approach it like a very long job interview. The end result is to work after the competition.
Article continues below advertisement
OK! NEWS: RYAN SEACREST DISHES ON AMERICAN IDOL
What made you try out for Idol? Did you watch a lot?
Of course, watched it every year! I liked Adam Lambert and Kris Allen, both last year. I liked Allison Iraheta. Last year was a good season. I liked Matt Giraud. I liked Danny Gokey. I was rooting more for Matt Giraud. He never had a chance to have a huge moment. But he was kind of my guy, I liked that style of singing. It was nice when he came back to the show. That was before I got saved so we didn't know we had that bond at that point.
What was it like when other past Idols came back this season?
Adam was amazing. David Cook was super cool. Adam and Cook probably had the best reputations around the staff who takes care of us. Everyone always talked about how wonderfully prepared Adam was all the time. Preparation was a big part of my game so that you don't have to worry when it comes crunch time. People always talked about how Adam always looked so great and not nervous on stage. That was one thing I wanted to make sure was tight in my game. And David Archuleta was really cool when he came back and he's such a nice kid, kind of a jitter bug. They were just like enjoy it, it's very different when you're out of that Idol bubble. They treat us good, extremely good. Not enough people talk about how well they treat us.
Article continues below advertisement
Who were you closest to on the show?
Extremely close to Andrew and Lee, kind of the three amigos. When Andrew left it kind of turned into me, Lee and Siobhan Magnus. But I'm kind of the big brother of the group so I've got a special place for everybody.
Did you feel competition with each other?
No, we're too different. Everyone wants to be the No. 1. You shouldn't be there if you're not trying to be that. Most weeks, people were just trying to do as well as they could. There were only a few of us who had designs on the big prize from the get-go. When my baby was born, it kind of changed everything. It wasn't like, "I hope I do good" anymore, "I had to do well."
OK! NEWS: IDOL'S MICHAEL LYNCHE — "THE PLAN IS TO PUT OUT A GREAT ALBUM!"
You don't regret missing the baby's birth?
No regret, you can't live in a regret mind-frame. Does it hurt me? Yes. It hurts me very much still and it will. Only time will heal those wounds. Do I think I did well for my family? Yes. I really wanted to give us the chance to be special. Worth it in the long run, but I've still got work to do.
Article continues below advertisement
What would you have sung if you were there this week?
My song choice was going to be "Whenever Wherever Whatever" by Maxwell. Kind of going back to a song that really means a lot to me and that I know very very well could bring something special.
What kind of music do you want to do?
Soul, R&B. Anything that touches your soul, makes you want to get up and do something, that inspires you. I really see myself in the mold of Maxwell, John Legend. Just real musicians who put on a good show but the music is real for them.
OK! NEWS: CHRIS DAUGHTRY & WIFE DEANNA EXPECTING TWINS
Would you do things outside of music?
Of course! I want to do everything. I am a songwriter as well. It was one of the things I was doing in New York before I went on the show. Writing for commercials and I got a song in a movie last year, Madea Goes to Jail. I did a Maybelline commercial, wrote a song and sang on that which was really cool. I just want to continue to do everything with music and I want to get involved with Broadway and TV. I think it would be really fun for my wife and I to have a reality show, seeing our little girl grow up. She's already been growing up on TV. That would just be so much fun. Of course all they would do is see us watching TV and ordering delivery in our apartment.
Article continues below advertisement
What are your favorite shows?
We really like Glee. Glee is outstanding and 24. We watch Fox a lot, we do laughs. 24 used to be my all-time favorite. I love Jack Bauer. I don't watch much these days, I'm a little busy. But when I have time, I watch ESPN just to catch up on sports.
Have you enjoyed doing Twitter and reading replies?
It's interesting to read because not everybody writes friendly things which is a shame that you would take the time to find my page. It makes no sense to me. To take the time to find me and tell me something negative or to tell me how much you like someone else. Just tell them how much you like them! Why bother? That part of it is interesting to me. I am a man of the people. I love to be around the people and see the people. And we got to be connected that much more to them first time ever. That's quite outstanding.
OK! NEWS: AMERICAN IDOL SAYS BIG FAREWELL TO PROUD DAD MICHAEL LYNCHE
Are you excited for the tour?
The tour is going to be great. It's going to be nice to have the ten of us back together again. It's such a fun group. We all fit really well into the group. We have fun, we laugh, laugh, laugh. Nobody knows how funny Lee DeWyze is. And Andrew Garcia, and even Aaron Kelly. We just all pick on each other and have so much fun.
Article continues below advertisement
Lee comes off so quiet!
Yeah! Quiet and nervous! I'm like, Lee come on, be yourself! Show these people! He's got an unbelievable outstanding personality. He seems very introverted on TV, but he's so funny! Funniest one in the group, hands-down by far! You wouldn't even believe it. I just laugh. My cheeks hurts so much from laughing. When him and Andrew, and Siobhan is like crazy funny, too. When all of us get together, it's just going to be a laugh fest.
What will you sing on the tour?
"This Women's Work" is going to be one of my main songs. I'm probably going to get down on "Ready for Love." I want to do something else fun and new which will be kind of a surprise. Me and Casey James will probably do the duet we did last week and then I guess we'll have some group songs. It's going to be a super fun time. Andrew was texting me on the way here and I was just getting excited about going back and seeing everybody.
Article continues below advertisement
OK! NEWS: AMERICAN IDOL'S TOP FOUR CRYSTAL & BIG MIKE JUGGLE PARENTHOOD
Have you been recognized a lot?
Laughs A little. The people have been good to me. Everywhere we have been, they are good to me and my family. I love the people. I love to take pictures. People never have to apologize for that with me. That's what makes this show. The thing that I love about this show is the people pick their champion, whoever that ends up being. The people are such a big part of American Idol. For any of us to ever refuse a picture or autograph is just ludicrous. It's the people who give you the chance.
Who do you think will win?
I'm not sure, I think it's really important to stick to your game at this point. It's really not about you, as much as it is about your fans. You want them to show up strong and in strong numbers so you want to do the things that make them love you. This competition is not about who is the best singer or who has done the best for the night. It's about the fans. If you've got fans who will stay on the phone for two hours for you, you've got to give them what they want. A lot of times the fans vote to save a person. Like if you didn't do so well, they've got to vote to keep you in. Rather than if you did well, then they don't vote as hard.
Article continues below advertisement
That sometimes happens. Look what happened to Chris Daughtry. He came in fourth.
That's why the save is the Chris Daughtry rule. We'll do all right. It doesn't have to do as much with place as it does with work ethic. If you're willing to work for it, you can achieve.
OK! NEWS: AMERICAN IDOL'S TOP FOUR CRYSTAL & BIG MIKE JUGGLE PARENTHOOD
Is it true you can bench press 500 pounds?
505!
Could you really bench press someone?
Laughs I did curl someone in the studio. It was a very small space though. I love being in a gym. My gym here is a very good gym. Equinox Gym, outstanding.