NEWS
'American Idol' Judge Steven Tyler Talks Physical Chemistry with Fiancée Erin Brady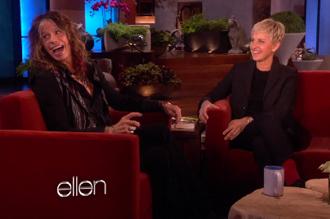 Steven Tyler is very much in love with his girlfriend of five years and soon-to-be wife, Erin Brady. But he didn't always feel that way! The American Idol judge tells Ellen DeGeneres that he was, first and foremost, physically attracted to her.
OK! NEWS: STEVEN TYLER IS ENGAGED TO ERIN BBADY!
"She had on this hair band on around her head," Steven tells Ellen on today's episode of The Ellen DeGeneres Show. "She looked really old-fashioned, so I took her back in the room and she tied me up with it and I thought, 'I'm marrying this girl.'" Whoa, TMI!
Article continues below advertisement
He adds that it was the "imagery" of the scarf and "how deep one can get into it" that took over. Hmm, we're not getting into it but, hey, it's Steven Tyler we're talking about here.
The Aerosmith frontman, 63, actually confesses that at first he "didn't even notice" Erin, 38, who was an employee at Clear Channel Communications and paid the band. And now, he's hopelessly in love and committed to their future together.
OK! NEWS: STEVEN TYLER FALLS IN HOTEL SHOWER, BUT LEAVES HOSPITAL IN GOOD CONDITION
The once-troubled singer, who is two years sober, says he's done with drugs and that he never wants to worry about heading back to rehab again. "I can't get back into that world," he tells Ellen. "I can stay high onstage and stay high here with you right now, hearing you guys the crowd roar. I just keep with my program, wish and hope. I don't want to go back to that place. That place lost me my kids, my marriage, a band, a lot of things."
Steven and the rest of the gang are back for another season of American Idol, which premieres tomorrow night on FOX!