NEWS
'American Idol' Recap: Aspen Fails to Impress and Jenny Schick Gets a Kiss from Steven Tyler!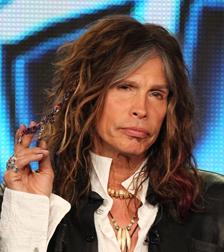 Article continues below advertisement
However, there were a few standouts. But how far will they get in Hollywood?
Jenni Schick: She's a music teacher, but hates recorders. When she has 30 recorders, it makes her want to vomit. Well, maybe, she should leave those out of her classroom. Jenni is so beyond energetic. She sings "Heartbreaker" by Pat Benatar, and she has a wild attitude about her performance, but we like her rusky voice and so do the judges. But first she wants a kiss from Steven since he is on her list of celebrities that she can kiss and not be cheating on her boyfriend. Of course, Steven obliges and kisses her right on the lips. Randy, "Take that kiss to Hollywood." Jenni, "His lips are very soft and voluptuous."
Article continues below advertisement
Richie Law: He sounds just like last year's winner Scotty McCreery. But don't we already have one? Randy, "You have a strong powerful voice right there." We are not so sure Richie will last long.
Haley Smith: She lives in log cabin in the middle of nowhere. "I feel the most at peace here." She already has three jobs! Can she handle Idol? Sings Chaka Khan's "Tell Me Something Good." She has a very old-school voice and reminds us of season 9 contestant Crystal Bowersox. She does her own style at 18, that is not common, but Crystal hasn't done too well. Randy, "It's a Joni Mitchell sort of way." Steven, "You are right out of my era."
Shelby Tweten: This young girl suffers from bipolar disorder and depression. What a story about how American Idol keeps her on her meds! When she sings during a manic episode, it really helps her. She is really sweet and has a young Carrie Underwood vibe to her as she sings "Temporary Home." Jennifer, "Beautiful! Brought tears to my eyes." Randy, "You are fearless as a singer." She is going to Hollywood!
Article continues below advertisement
Jairo Jackson: He is one talented guy. He wrote a song himself called "So Hard" and it's really good. He has a sweet soulful voice and a great range. Jennifer, "You're a lover." Steven, "Beautiful. I loved it." Randy, "It's a good song."
Angie Zeiderman: What an unusual girl. She wants people to call her Lady Gaga and she feels it is time for a vintage glitter queen on American Idol. What a joke this is with her rolling on the floor and dancing like she's in cabaret. But then she sings a much more normal song and she sounds so much better, but nothing that special. She won't get far, but the judges seemed to like it. Randy on second song, "That changed my mind." Jennifer, "She doesn't have one ounce of nerves." Let's see how Angie does in Hollywood!
Of course, they had to have a crazy guy close out the show. It's Magic Cyclops. Hate these weird, horrible, just want to be on TV acts. He sings "Crackling Rose" by Neil Diamond. This is horrible and just a waste of time, and Randy agrees because he just walks out of the room.
That was definitely a lackluster audition episode. What did you think? Idol visits Galveston, Texas, tonight. Here's hoping there is some better talent down in Texas! Don't miss American Idol tonight at 8 p.m. ET on FOX!