NEWS
'American Idol' Recap: Pittsburgh Pizazz! A Justin Bieber Look-alike and Hallie Day Wows the Judges!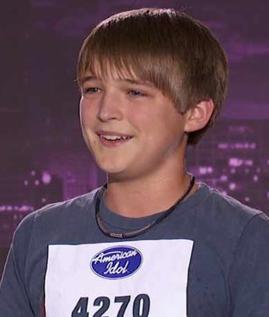 It's night two for the American Idol auditions episodes, and this time the judges headed to Pittsburgh, a first-time visit for the show. Well, Pittsburgh is called the city of champions. Could we see a future Idol winner tonight?
Ryan Seacrest hangs with Heejun Han before he auditions, and he is pretty nervous. But don't worry, Heejun lets us know that he "drank plenty of tea and stuff so he is okay." Heejun belts out "How Am I supposed to live Without You" by Michael Bolton. And we didn't expect this! He has a really sweet voice. Steven Tyler said, "you sing great." Jennifer Lopez said, "you have a beautiful voice. Randy Jackson, "I was shocked." Heejun definitely doesn't have a censor as he tells Randy that he looks better in person. This guy could be quite entertaining to watch.
Article continues below advertisement
OK! NEWS: AMERICAN IDOL WINNERS BEST PERFORMANCES FROM KELLY CLARKSON TO SCOTTY MCCREERY
Reed Grimm is up next and his parents met in a band and fell in love, and they just added their kids to the show. Stage is like home to Reed. He is an unusual fellow. He has chosen the theme song to Family Matters. Okay then. Wow. It really works, he adds scatting and is so energetic. Kind of reminds us of a combo of Casey Abrams and Taylor Hicks. Steven, "that was genius." Randy, "you had us all enthralled." Jennifer, "the mark of a great performer is you never know what they're going to do. You have that. A gazillion percent yes!"
Now get ready for something really strange. Patricia Bell has come along with her younger sister Samantha Novacek. But Patricia is just a planker, and her sister sings better when she planks. This is so very strange. But shock of all shocks, Samantha is really good. She sings "We Never Loved It At All" by Faith Hill and has a great country voice. Jennifer, "there was some guts behind the voice." Steven, "sweet, clever, great notes." Randy, "very pure sound. A little Faith Hill, a little Carpenterish." Samantha is going all the way to Hollywood.
Article continues below advertisement
Creighton Fraker is a starving artist in NYC. He just sings and writes music so on his 9-hour bus ride to Pittsburgh, he writes a song to audition with. Now that is a gutsy move. The song is kind of bad, but he has a good tone to his voice and he is scatting, and it kind of works in a weird way. Jennifer thinks it's like Jamiroquai and Justin Timberlake had a baby. Steven, "that was genius, that was great." Randy, "you have a weird crazy voice but I love it." But will he survive in Hollywood?
OK! NEWS: AMERICAN IDOL NOSEDIVE: PREMIERE RATINGS TAKE BIGGEST DROP EVER!
Eben Franckewitz came with his parents from Ohio to try out, and he has really been practicing for the right song to sing. And boy does this kid look like Justin Bieber. Eben even says that he gets that a lot. But can he sing like the Biebs? He is no Justin with his rendition of "Aint No Sunshine" but he is adorable and has a decent voice. He will probably get eaten alive in Hollywood. Steven, "I think you've got it." Randy, "you have a God-given gift." Aww! Eben is adorable as he says "It's a dream come true, I am shaking."
Article continues below advertisement
Travis Orlando is back after last year being cut in Hollywood. He sings "Isn't She Lovely" and has a really sweet, sweet voice. Jennifer, "I really want your voice to come all the way out." Steven, "you are singing the passion but you are not showing off." But Travis has a sad story. He dropped out of high school and he cries as he says his mom left and they ended up in a shelter. Oh, we really hope Travis makes it. And he does! Don't fail in Hollywood this time, Travis!
Erika Van Pelt is a mobile DJ and wedding singer, but she is definitely no Adam Sandler. Erika does a great rendition of Carole King's "Will You Still Love Me Tomorrow?" She has a really mature voice. Randy, "this is how you do it. Steven, "very sexy." Jennifer, "the voice matches her." Straight through to Hollywood. She has good potential.
Shane Bruce works in the coal mine because that's what his whole family does, but he really wants to follow his dream. But can he sing? He is off to bad start when he says that he knows his song "Hallelujah" from Shrek! This boy needs some more music knowledge. Sadly, Shane is seriously off pitch and needs a lot more work. Steven, "you singing to them down there in the mine, maybe that is your forte." Randy, "you need clearly a lot of work for something at this level." Jennifer, "work on it and maybe next year come back."
Article continues below advertisement
Hallie Day ends the night, and here is another sob story that Idol loves. She is recently married, and music and her husband saved her life. She dropped out of high school, moved to NYC, joined a band and got into debt. Eventually, she moved back home and swallowed a bottle of pills. Luckily, she survived and is now married and has her life back. She performs "I Will Survive," which is poignant, and she can really sing! She has a big powerful voice, and we like how she changed up the song a bit. Steven, "I like watching her when she sings." Jennifer, "I can see you stealing the show, on an album cover, I can see it." Yes, Yes, Yes for Hallie! Jennifer ends the night with, "she could win!"
Do you agree with Jennifer? Who were your faves of the night? Don't miss a special episode of American Idol on Sunday night at 10 p.m. ET after football!