NEWS
'American Idol' Recap: The 2012 Top 10 is Revealed and Shannon Magrane is Eliminated!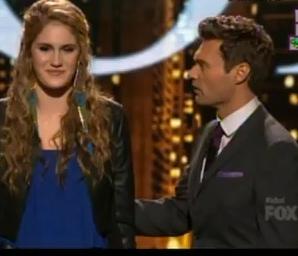 The most-sought after part of American Idol at this point in the season for the contestants is making it into the top 10 so that they can go on the summer tour. What's better than a guaranteed job for the entire summer and traveling the country to perform in packed arenas?
On last night's show, only one person wouldn't be lucky enough to make it onto the tour. But there was always the option of Jennifer Lopez, Randy Jackson and Steven Tyler using the judges' save. However, it's a little too early in the season for that.
Article continues below advertisement
It was a little creepy to watch this week's Ford Music video and see that Jermaine Jones was there for the filming of it. It was even more eerie that he was playing a ghost in the video. Foreshadowing perhaps?
OK! NEWS: JERMAINE JONES OPENS UP ABOUT AMERICAN IDOL DISQUALIFICATON
But time for the results. Phillip Phillips and Joshua Ledet were, of course, safe right off the bat. Then it was down to Elise Testone and Skylar Laine. It is pretty obvious that Skylar is a front-runner, so we pretty much knew that Elise would end up in the bottom three... again. And she was, but she didn't have to have such an obnoxious look on her face. That isn't going to win any votes, Elise. So Skylar was safe and going on tour, along with Phillip and Joshua.
Then it was time for Colton Dixon, Shannon Magrane, DeAndre Brackensick and Jessica Sanchez to get the news. Ryan teased Colton, but he was safe and going on tour, so were DeAndre and Jessica. But sadly, Shannon was in the bottom three.
As for Hollie Cavanagh, Heejun Han and Erika Van Pelt, Hollie is amazing, so we knew she would be safe. But who would fill out the bottom three? And not so surprisingly, it was Heejun.
Article continues below advertisement
OK! GALLERY: AMERICAN IDOL FINAL 13 PARTY WITH JENNIFER LOPEZ, STEVEN TYLER, RANDY JACKSON AND RYAN SEACREST
Elise was quickly sent back to safety and that left it between Heejun and Shannon. And it was Shannon and now she would have to sing for her life. She made a great attempt with "One Sweet Day" but the judges did not use the save. And Shannon was sent home.
Let's not forget about the musical guests! We were treated to both performances from Demi Lovato with "Give Your Heart a Break" and Daughtry's "Outta My Head." We were not a big fan of the Demi song. Definitely prefer "Skyscraper." But we loved Daughtry's new song! It still baffles us how Chris Daughtry did not win in his season of Idol.
Next week the top 10 contestants will sing the songs of Billy Joel! What songs should they pick? Tune in Wednesday at 8 p.m. ET on FOX.