NEWS
'American Idol' Recap: Heejun Han is Eliminated and Scotty McCreery Returns to the 'Idol' Stage!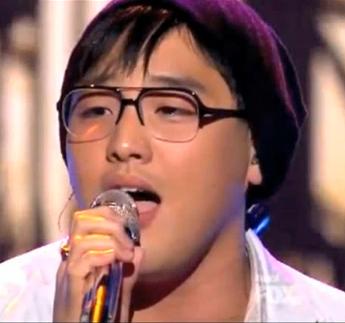 After American Idol had a rocking night on Wednesday as each of the singers sang songs from their own Idols, it was so hard to predict who would get the boot. Season 11 of Idol is really bringing on the talent week after week. But, of course, someone had to go.
After the usual filler of the Ford music video and a funny montage of the kids moving into the awesome Idol mansion, it was time for results.
Article continues below advertisement
Then it's time for Colton Dixon, Heejun Han and Joshua Ledet to hit center stage. Finally, Ryan Seacrest decides not to trick Colton and he is safe. But Heejun is not so lucky. He is in the bottom three again and Joshua is sent to the safe couches.
The last three to get results are Jessica Sanchez, Skylar Laine and Deandre Brackensick. Jessica is declared safe first, which is not surprising. And we were pretty sure Deandre would be the one in the bottom. But that was not the case. Awesome country girl Skylar hit the bottom 3 for the first time, which was quite surprising.
Article continues below advertisement
And let's not forget about the performances of the night. Nicki Minaj sang her new song "Starships." Well sing is an overstatement. We just don't get some of these singers are so popular when they don't even sing live. Unlike season 10 Idol winner who was also on the show last night singing his new tune, "Water Tower Town." Scotty was great and he was even presented by Jimmy Iovine with a platinum record for his debut album, Clear as Day! Way to go, Scotty!
Were you surprised Heejun was eliminated? Don't miss next week's theme of 80s music on Wednesday at 8 p.m. ET on FOX.