NEWS
'American Idol' Recap: Houston Has A Problem as Jennifer Lopez Butts Heads With Her Fellow Judges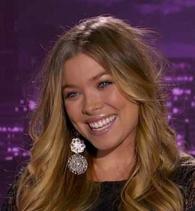 Houston, we have a problem. Another American Idol audition episode and already Steven Tyler and Randy Jackson are already butting heads with Jennifer Lopez. Can Ryan Seacrest keep everything in check? Meanwhile, no one blew us away but there were a few potential voices to keep our eye on, especially returning auditioner Baylie Brown!
Skylar Laine: She has a deer on her bedroom wall that she shot herself. Singing "Hell on Heels" and she has an awesome voice. It has a great growl to it. Jennifer, "I love it. She knows who she is."
Article continues below advertisement
Baylie Brown: She was on in season 6 and made it to Hollywood but was in a group with those Jersey girls. Remember Antonella Barber? And she didn't make it through and they did after she forgot the words. But she is all grown up now and she is SO GOOD. One of the best girl voices so far singing "Bed of Roses." Jennifer, "I hope you hold it together in Hollywood this time." Randy, "You got significantly better!"
Article continues below advertisement
A next round of girls that are really good, Rachael Turner, Reagan Wilson and Cheyenne James. Jennifer likes them but the boys say no. These girls were good. Are they nuts? Jennifer is mad! And then there is Linda Williams who is not good at all, and the boys like her! What is going on?
Cortez Shaw: He has been through tough times, has even been homeless. He says, "There is hope, no matter what happens in life, you can still achieve your dream." He sings Adele "Someone Like You" and has this awesome fast beat to his singing. Plus, he is cute and his performance is kind of infectious. Randy, "I like it. I like it." Jennifer, "That's what that song is supposed to sound like." Randy, "I really like this guy." Well he said Randy was his favorite.
Ramiro Garcia: What a shocking story he tells about being born with no ears and they didn't think he would hear or speak. But after many surgeries, he can. And what a voice! Amazing that he has such a good voice for all he went through. Kind of gives you goosebumps. Steven, "I like what I am hearing. I like your insides." Jennifer, "We are taking the leap of faith with you today."
And there is the worst auditioner of the night.
Article continues below advertisement
OK! NEWS: PITTSBURGH PIZAZZ! A JUSTIN BIEBER LOOK-ALIKE AND HALLIE DAY WOWS THE JUDGES
Alejandro Cazares: He wants to blow the judges' minds. "I want to tell people I made it and the revolution is here." Okay, then. "Revolution where the underdog can actually win once in a while" Well Kris Allen did. He sings "Looking Up" by Paramore. Awww, his girlfriend says she doesn't believe in him doing this. Well, sadly, she was right. This is bad, Alejandro. He is begging them on his knees. Randy, "The voice is terrible. Never a career in singing for you." Jennifer, "Don't beg us." Security has to usher him out, rightly so.
And again, a not that exciting auditions episode. Who was your favorite? The auditions continues on Wednesday night at 8 p.m. ET on FOX!