NEWS
'American Idol' Recap: Top 13 Perform & Jessica Sanchez, Skylar Laine & Hollie Cavanagh Shine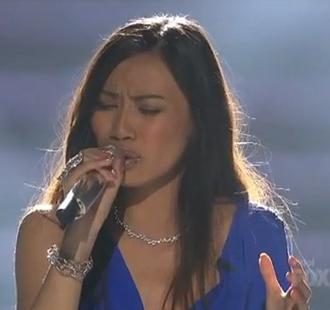 Now that we have the anticipated Top 13 on American Idol, it is time for the real competing to begin. Last night's show was also Idol's 400th episode. Can you believe it's been that long? How many episodes have you seen? The seven girls took on Whitney Houston songs, while the six guys did their thing on the songs of Stevie Wonder. Quite a tall order.
But on top of all that, Ryan Seacrest introduced a shocking new twist for this week only. The results show would reveal the bottom girl and the bottom guy, but then the judges would decide which one would go! We don't want Idol turning into X Factor! Moving on, let's see how everyone did.
Article continues below advertisement
Elise Testone, "I'm Your Baby Tonight": Oh Elise, this was not good. So not good at all. Maybe the last-minute song switch messed you up with mentors Jimmy Iovine and Mary J. Blige. It just wasn't the right song for her and Elise could be in real trouble.
Jermaine Jones, "Knocks Me Off My Feet": Super-tall Jermaine with his super-deep voice was brought back into the competition, but we still don't think that was the right decision. He sounds fine with what he does with his low voice, but he does nothing to stand out. And he could hit the bottom tonight.
Article continues below advertisement
Erika Van Pelt, "I Believe in You and Me": Love that raspy voice of Erika's so much, it is such a different sound, she just needs to work that stage more. She has the potential to do well, but has a lot of fierce girl competition to deal with.
Colton Dixon, "Lately": Colton did a great job, even if it may have been risky from the piano. He was off-pitch at a few moments, but he still showed his originality and how unique he is. Colton will do well.
Shannon Magrane, "I Have Nothin'": Shannon, on the other hand, did not do so well. She started out okay, but the song got away from her and it just overtook her. Her nerves seemed to have something to do with it as well. We could be saying bye to Shannon tonight.
Deandre Brackensick, "Master Blaster": The guy with the hair was saved last week and we are just so glad that he was. He did a completely new reggae take on the song and really reminded us of last season's Naima Adedapo. This was so fun to watch and it showed us that Deandre is here to stay.
Article continues below advertisement
OK! NEWS: AMERICAN IDOL RECAP: 2012 TOP 12 GUYS PERFORM AND JERMAINE JONES RETURNS MAKING IT A TOP 13
Skylar Laine, "Where Do Broken Hearts Go": Not easy for a country girl to have to come out and take on Whitney Houston. But Skylar blew us away! Some of the those, Wow!! Skylar could go all the way. Will we have another country girl in the finale after last year's Lauren Alaina?
Heejun Han, "All in Love is Fair": We just love this guy. His personality is off the charts, from his funny Tweets to giving autographed pics to Jimmy and Mary. And he has a really smooth voice, too. No, it doesn't blow you out of your chair. But it is quite enjoyable to listen to. Heejun is already a fan favorite.
Hollie Cavanagh, "All the Man that I Need": The little girl with the big voice, and what a crazy good voice this girl has. And when she gets to those money notes at the end of the song, your mouth is just left agape. Hollie is going to go far. Still can't believe she didn't make it to the live shows last year.
Jeremy Rosado, "Ribbons in the Sky": Jeremy is a nice guy and has a sweet voice. They may have saved him last week, but that probably wasn't the best choice. Jeremy is just boring. Sorry.
Article continues below advertisement
Jessica Sanchez, "I Will Always Love You": Another little girl with a big voice. Will that be our ultimate finale this year? Jessica could be the one to beat. She took on a huge song and blew everyone away. Everyone. Jessica could easily win this show.
Phillip Phillips, "Superstitious": And this year's cute guy with the guitar got the coveted pimp spot. And everyone always loves him. Phillip does this unique take on every song he does and the way he scrunches up his face when he sings, it shows you how much joy singing gives him. Phillip is the guy who could go all the way this year. But will we get our fifth guy winner in a row?
Who do you think will hit the bottom tonight? Who will the judges pick to leave? Find out tonight at 8 p.m. ET on FOX.