NEWS
'American Idol' Recap: Shocking Elimination of Colton Dixon and Kris Allen Returns!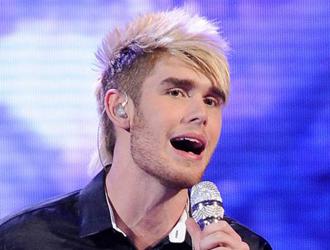 The audience was told right from the beginning of American Idol last night that it would be a shocking elimination and boy was he right! But unfortunately, as Randy Jackson pointed out that there were no more second chances, as the judges' save was used last week on Jessica Sanchez.
OK! NEWS: AMERICAN IDOL RECAP: COLTON DIXON WOWS THE CROWD WITH HIS COVER OF BILLY JOEL'S PIANO MAN
Sadly, after each of the contestants was brought down to center stage to get the news and Jimmy Iovine's take on this week's performances, the bottom 3 was Hollie Cavanagh, Elise Testone and shocking Colton Dixon. Hollie and Elise being in that group was no big surprise, but we still can't believe Colton was there. He has never even been in the bottom before.
Article continues below advertisement
Since we knew this would be a shocking elimination, we knew it had to be Colton. Hollie or Elise going would be no big shock. And it was Colton. Wow! We pegged Colton to make it all the way to the finale.
It was perhaps his completely different take on Earth, Wind and Fire's "September" that threw people off. But so many other deserved to go before Colton. I guess this is what happens when it is such a talented season.
Now who is the only person who has never been in the bottom 3? Phillip Phillips. Could he be the ultimate winner? If he does win, that would make the Idol winner a cute boy with a guitar five years in a row.
OK! NEWS: KRIS ALLEN CHATS ABOUT HIS ANTI-BULLYING THE VISION OF LOVE VIDEO AND THE MARIAH CAREY CONNECTION
Speaking of cute boys with guitar, who are also extremely talented... Season 8 winner Kris Allen returned to the show last night to debut the new single from his forthcoming album, Thank You Camellia. We loved his performance of "The Vision of Love." It is so catchy! Can't wait to get the new album on May 22. Not as talented was LMFAO. We just don't get what the big deal about them is. And what was with the dancing zebra on stage during "Sorry for Party Rocking"?
Do you think Colton deserved to go? Who did you like better Kris or LMFAO?
We are now down to our top 6 and the finale is one month away! Catch Idol on Wednesday at 8 p.m. ET.