NEWS
'American Idol' Tour Starts Today! Idols Talk Winner Phillip Phillips' Kidney Struggle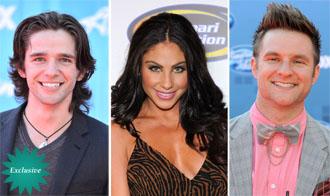 Article continues below advertisement
"I'm not surprised Phillip won," Tim Urban told OK! at the Summer With the Stars event at the soon-to-be Hard Rock Hotel Riviera Maya in Mexico. "He has a really interesting feel to him, you know? He's very different than past winners. He's very unique for the market right now. There's not a young guy who has his voice... kind of like a Dave Matthews feel."
As for what Tim felt about Phillip's health battle, the Season nine contestant wishes Phillip would have been able to participate in the Ford commericials throughout the season.
"Here's the thing, the Ford commercials are not stressful. For me, they were one of the most relaxing things we did! Sunday afternoons, we had a couple of hours to hang out and have fun. I think he missed out, that's how I look at it," Tim confessed. "I guess it's different for someone else, but I if I hadn't done them, I would've been sad. I don't think it affected anything, I mean he had to deal with all the kidney stuff, so it's not like he had an unfair advantage going into the finale."
Article continues below advertisement
And Season 8's Matt Giraud agrees. "That had to be tough," Matt said of Phillip's kidney stones. "I'm glad he pulled through. So hopefully he's healthy."
"I think that anybody who has the courage and the strength to get that far in the competition and beat all kinds of odds — call it fair, call it not... I say fair — absolutely gets to win," Season four contestant Mikalah Gordon revealed, adding that his situation on the show didn't affect the final results.
So did Matt!
"I have to admit, I'm kind of a Jessica Sanchez fan. Kind of a big one… but Phillip had moments also," Matt confessed. "I think I was rooting for Jessica, but I'm happy for all of them and I hope Phillip does well."
The American Idol tour starts tonight in Detroit — Check out all the summer concert dates here!