NEWS
'American Idol': What You Didn't See on TV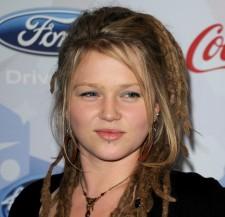 Sitting in the American Idol audience last night, Miley Cyrus overshadowed the remaining 11 hopefuls as they performed number one Billboard hits — but only one singer took the top slot with the judges.
With most of the competitors failing to match their mentor Miley's star wattage, only Crystal Bowersox got the total enthusiastic approval of the judges. It was an important night for the Idols, as only the final ten on the show will get to perform on the nationwide tour.
Article continues below advertisement
The singer eliminated on Wednesday's episode is the unlucky #11 who goes home for good. OK! was there to see Miley, her mother Tish, and Adam Shankman — her pal and Academy Awards producer — sit in the front row behind Simon Cowell.
Hell's Kitchen chef Gordon Ramsay and actor Chi McBride were audience members, as was judge Ellen DeGeneres' wife, Portia de Rossi, who held hands with the talk show hostess during commercial breaks.
OK! NEW: PAULA ABDUL SAYS NO TO STAR SEARCH
Adam and an animated Miley, 17, whispered to each other throughout the show as each Idol performed. The judges paid a lot of attention to their guest mentor, with Simon kissing Miley, Randy Jackson posing for pictures with her, and Kara DioGuardi frequently visiting the teen queen during commercial breaks.
The judges couldn't hide their dismay about Paige Miles' performance. As she performed an off-key rendition of "Against All Odds", Simon leaned his chin wearily into his hand and Kara shot him a look and pained smile. Their body language said it all — Paige's night was a disaster.
Article continues below advertisement
OK! NEWS: TAYLOR HICKS ON KATE GOSSELIN: I WOULD TOTALLY DATE HER
Things didn't go much better for Andrew Garcia. TV viewers didn't see what the studio audience did: Kara shaking her head at Simon with a stricken look as Andrew sang "I Heard it Through the Grapevine".
After they panned his version on camera, Kara took the time during the commercial break to share her thoughts about Andrew with Miley, pointing to her head as though she was questioning his decision to attempt the Motown classic.
OK! NEWS: LACEY BROWN'S AMERICAN IDOL DREAM IS OVER
Although Tim Urban's version of "Crazy Little Thing Called Love" was panned by the judges, the teenage girls in the audience loved him. Tim brought a female fan up on stage for a hug after his performance.
Crystal Bowersox got the most emotional audience reaction of the night with her version of Janis Joplin's "Me and Bobby McGee". The evening ended on a high note with Siobhan Magnus' electric version of "Superstition".
Article continues below advertisement
OK!'S IDOL ROUNDTABLE: ANOOP & DIANA DISH ON RESULTS
Although the judges didn't give her a complete rave, the fans at the taping loved it and leaped to their feet. More than ever, she resembled a female Adam Lambert. But no one could hold a candle to Miley, who seemed to take her guest mentor job very seriously and will perform on Wednesday night's results show.
Tune in to see who gets the boot — and loses the chance to go on the next American Idol concert tour.