NEWS
Amy Winehouse's Father Plans to Set Up Addiction Foundation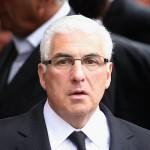 During his eulogy yesterday for Amy Winehouse, Mitch Winehouse announced intentions to open a foundation in his daughter's name. The purpose? It will help people struggling with alcohol and drug addictions.
OK! NEWS: AMY WINEHOUSE'S DAD GIVES FINAL FAREWELL AT FUNERAL — "GOOD NIGHT, MY ANGEL, SLEEP TIGHT"
According to RadarOnline, the charitable foundation will provide support for people who are battling with substance abuse. It may also include a rehabilitation center. Considering Amy was passionate about children and horses, the foundation will benefit them, too.
Article continues below advertisement
In fact, as soon as he heard the news of his daughter's death, it was a no brainer to open a foundation bearing her name. As noted by The Daily Mail (via RadarOnline), he stated, "I was with my cousin Michael when I heard and straight away I said I wanted an Amy Winehouse Foundation, something to help the things she loved - children, horses, but also to help those struggling with substance abuse."
OK! NEWS: AMY WINEHOUSE'S LAST BOYFRIEND SPEAKS OUT AS SHE'S LAID TO REST — "I HAVE LOST MY DARLING"
In addition to helping people, the goal is to overhaul the system itself since private clinics are rather expensive. "In this country, if you cannot afford a private rehabilitation clinic, there is a two-year waiting list for help. With the help of Keith Vaz MP member of Parliament, we are trying to change that."
Sadly, Mitch also noted that recently Amy "was the happiest she'd been for years." At the private ceremony Mitch indicated she finished three weeks of abstinence when she passed away and was ready to embrace a clean slate. "She said, 'Dad, I've had enough of drinking. I can't stand the look on your and the family's faces anymore.'"