NEWS
Amy Winehouse's Tragic Last Days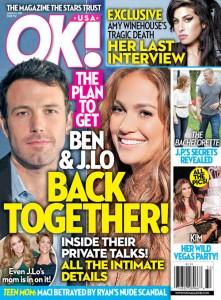 At 27, the tortured diva's epic battle With booze and drugs comes to a lonely end. Perhaps the saddest thing about Amy Jade Winehouse's death, from a suspected drug overdose, was that it wasn't surprising; as her mother, Janis, said three years ago, "We're watching her kill herself, slowly." And indeed, the 27-year-old singer was known as much for her struggles with substance abuse — immortalized in her hit single "Rehab" — as for her bluesy anthems and raven beehive. We take a look at Amy's last days in the new issue of OK!.
Article continues below advertisement
OK! GALLERY: TAKE A LOOK BACK AT AMY WINEHOUSE'S MUSICAL CAREER IN PHOTOS
"It's no secret that Amy was on a mission to self-destruct," an insider tells OK!. "She was almost a caricature of the brilliant, tortured artist who can't get past her demons." The official end came at 3:54 p.m. on July 23, when paramedics found Amy's body alone in bed at her London flat. But her tragedy was long in the making.
Article continues below advertisement
A catalyst for Amy's downward spiral was her smack- and crack-laced marriage (from 2007 to 2009) to Blake Fielder-Civil.
"She never got over her relationship with Blake, and it was basically what killed her," the source says. "When it ended, it nearly paralyzed her."
Ironically, Amy had been looking healthier than usual as of late and had planned a European tour. But she canceled the shows after a June 18 performance in Belgrade, Serbia, in which she forgot lyrics, seemed incoherent and was booed off the stage.
Article continues below advertisement
Amy emerged briefly July 20, taking the stage at London's iTunes Festival and flashing a few dance moves with her 15-year-old goddaughter, Dionne Bromfield. Three days later, Amy joined the roster of rock royalty who passed at age 27, including Jimi Hendrix, Janis Joplin, Jim Morrison and Kurt Cobain. In an interview this past October, Amy said, "If I died tomorrow, I'd be a happy girl." One can only hope her words were prophetic.
FOR MORE ON THE LOSS OF AMY WINEHOUSE PICK UP THIS WEEK'S ISSUE OF OK! MAGAZINE ON SALE NOW!