NEWS
Anchorman 2 Director Adam McKay Reveals What Kanye West Was Really Like On Set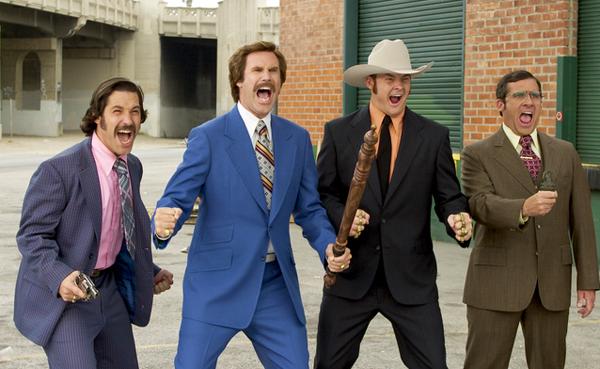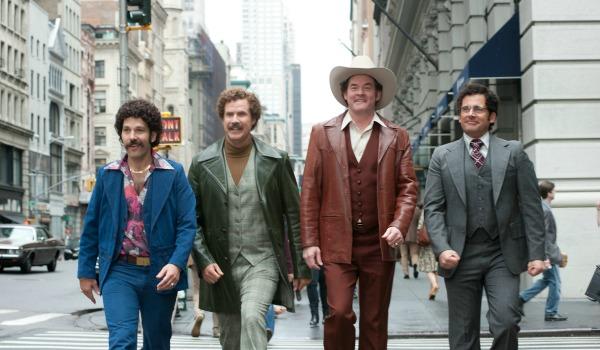 What's better than an Anchorman sequel? A DVD of that sequel, with 763 new jokes added to the theatrical film. Yes, you read that number right! Anchorman 2: The Legend Continues is out on DVD this week and available in a Blu-Ray combo pack that includes a hugely extended director's cut. OKMagazine.com talked to that director, Adam McKay, about the new jokes, his frequent collaborations with Will Ferrell, and of course, Kanye West.
Article continues below advertisement
OK!: How did you figure out which jokes to keep and which to cut in the original, theatrical version?
Adam McKay: That's the million-dollar question. We do test screenings. It's sort of give and take. If it's a joke you really love and it gets some kind of response, you leave it in. If it's a joke you love and it gets zip, and it kills a whole sequence, then you contemplate taking it out. So you never entirely know coming into it. You're doing your best guess mixed with your taste. With the audience, you kick it back and forth and find this nice ground where you're getting consistent laughs but it's still got your personality in there.
WATCH: Will Ferrell jokes around in character with Michelle Obama.
OK!: What's your favorite joke in the theatrical version, and what's your favorite one that was added?
AM: Theatrical, there's a bunch we really loved. I like chicken of the cave with Champ Kind, where it turns out they serve bats. I love the conversation with Ron Burgundy and the guys about being blind in the lighthouse, that always made me laugh really hard. There's a bunch more, but those come right to mind. In the alternate one, Brian Fontana taking Champ Kind's mom to the hospital, and then he ends up giving her the clap. And I love the conversation at the table where they talk about how to spice up the news, and they talk about letting a bunch of chickens loose with big cats, and calling the show Let 'Er Rip, and watching lions rip apart chickens. We almost put that in!
Article continues below advertisement
OK!: Why do you think you and Will Ferrell work so well together? Is there anything he's really serious about with you?
AM: laughs We're both the same age, I think we have the same frame of reference for our sense of humor. We both grew up liking the same things: Letterman, Monty Python, Steve Martin. Both of us are big believers that it shouldn't be high drama when you're making these movies. You're supposed to be laughing, it's supposed to be fun. That doesn't mean it doesn't get tense; we certainly don't believe you have to create that drama. It doesn't mean we're not mad men with going in and trying to get it right. We love working hard on that stuff. And we trust each other enough that if there's a disagreement, it's kind of whoever disagrees most effusively wins. If Will's like, I really want to do this, I'm like, Alright! You've been doing this for a while. I trust you. You've got an instinct.
PHOTOS: See Will Ferrell's funniest gifs ever.
OK!: Your daughter Pearl in gif below, famous from Funny or Die appeared in the film. Is she becoming friends with Will's kids and Paul Rudd's kids, and will they be their own comedy troupe one day?
AM: No, unfortunately Paul lives in New York and Will lives far away in LA, so we don't get to hang out as much as we'd like with our kids. Will and I run a company together, so we see each other all the time, but... They know each other, but that would be pretty awesome if that could happen. Somebody told me they did that in one of the improv theaters here in town, the iO. The children of all the improv actors did a class together, and I was like, why didn't anyone call me?! That's awesome. Who knows.
Article continues below advertisement
OK!: Speaking of comedians, there were about a hundred cameos in this movie. Was it difficult to keep them a surprise, and did anyone say no?
AM: It was hard to keep it a surprise! We had the paparazzi all around the set. I regret it afterwards that we didn't get celebrity lookalikes to hang around the set. We kind of accepted it pretty quickly. Everyone's got their long lenses. I just wish they'd put the headline, "Spoiler alert!" It's funny, most of America doesn't pay attention to that stuff, because when we screened the movie there was no loss of surprise. The one person we really wanted was Meryl Streep. She was shooting a movie. She's the greatest film actor ever, and if she had popped up, me as an audience member would have been like, Holy crap. I hear she's really funny and really cool, too.
PHOTOS: Look back at the funniest quotes from the first Anchorman!
OK!: What was it like to work with Kanye? He usually has a "vision" for his work.
AM: He's cool! There was a little wardrobe discussion, trying to get the right look, and other than that he just jumped in the pocket. I threw some lines at him, he came up with some lines. I think when Harrison Ford turns into the were-hyena, he says "That's a cool idea for a video. I'm going to call Michael Jackson." That was totally his! He improvised it. He's a funny guy, and he loves comedy. He's a big comedy geek. He loves the first Anchorman. He knows when something's funny or good. It was no sweat working with him. During the down time, he would play us cuts from his new record, and he was still recording the record, trying to name it, and that was kind of amazing. I'm a hip-hop fan from back in the '80s, so for me it was a dream situation.
Article continues below advertisement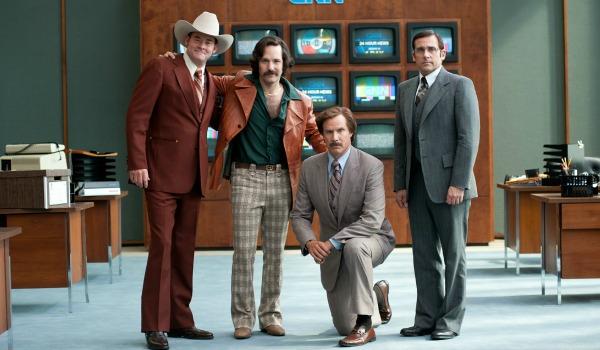 OK!: Any thoughts or plans for Anchorman 3?
AM: Initially, no. We're going to go onto to some other original projects. A little while ago, I said no, definitely not, but I recognized that's not true. We won't really know how this movie plays until a year and a half or two years from now—that's usually how our movies work, after repeat viewings, that's when you really know what people think of them. I would say not in the near future, but we're open to it. If there's suddenly a demand and we have an idea.
OK!: You were a head writer on SNL in the '90s. Do you have any advice for the new head writer, Colin Jost?
AM: Yeah, I saw that! Never forget that it's Lorne Michaels' show. Initially, when I was head writer, I was like, I'm going to change the show! And you're like, no you're not. It's not your show, and it's been around for a long time, and it's done really well. Once I gave up that ghost, I had a lot of fun. And do topical humor. That drives the show.
Did you see the Anchorman sequel? What was your favorite part? Did you think Kanye was a good cameo? Tell us in the comments below or tweet us @OKMagazine.