VIDEOS
Watch: Michelle Obama Dances with Will Ferrell on The Tonight Show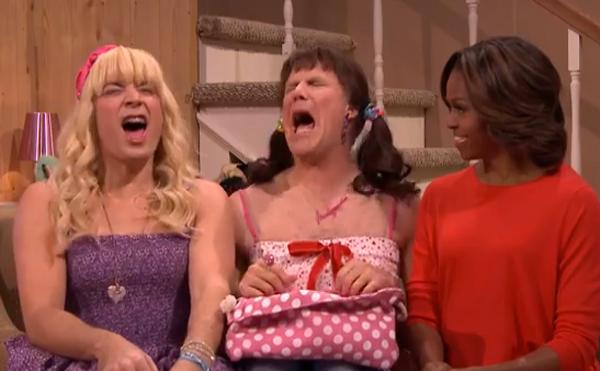 It's been an amazing first week for Jimmy Fallon in his new hosting gig on The Tonight Show. His first episode featured some amazing cameos from Tina Fey and Lady Gaga, and last night none other than Will Ferrell and First Lady Michelle Obama stopped by to get goofy.
Watch: Kristen Wiig impersonated Harry Styles this week on The Tonight Show!
First of all, we could watch Jimmy Fallon and Will Ferrell hang out all day, no matter which characters they're playing. But they took on the personas of tween girls, the kind who love boys but hate vegetables. The word "ew!" was uttered about one thousand times in this sketch, with even Ms. Obama getting in on the fun.
Article continues below advertisement
hulu id=is3wc0ixb0rvqjzh1igzdg width=512
The best part of the whole sketch? Watching the First Lady get down with Jimmy and Will. The woman has got moves! The fun didn't stop there. Will came back and got in the Olympic spirit. He did an "ice skating" routine to the theme song from Downton Abbey. Watch here and get ready to laugh!
hulu id=uvdjeeywj7be7pj2s66hfg width=512
What did you think of the "ew!" sketch? Which of these three celebs do you wish you could have a dance party with? How do you think Jimmy is doing so far? Tell us in the comments below or tweet us @OKMagazine.