NEWS
Andy Dick's 'DWTS' Performance Tonight Is a Tear-Jerker—Find Out Why!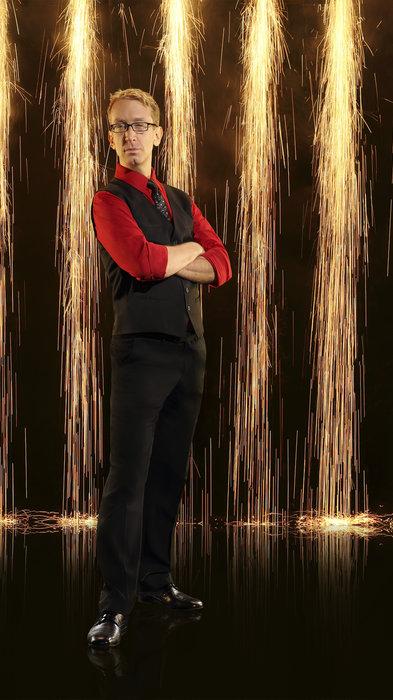 Article continues below advertisement
Watch: Kate Middleton Talks Baby Names and Her Due Date!
"We have a beautiful story (to tell) which is not fabricated in any way," explains Sharna. "It's very true and very real about Andy, something I discovered about him. I want everyone to know. He says he's ready to do it. It's about his daughter and the day he became a father. Not everybody knows he has a daughter and he has such an amazing connection with her. They share a favorite song  and we'll be dancing to that song. It's going to be a really special week. It's not going to be crazy or funny or weird or twisted."
Watch: What's Busy Phillips Thankful For? Other Preggo Celebs!
"It's almost too much," adds Andy. "It's going to be beautiful."
Andy's three children—Lucas, Jacob and Meg—have been in the Dancing audience each week, surprising to many who didn't even realize the former NewsRadio star was a father. He is excited to dedicate this dance to 15-year-old Meg.
Article continues below advertisement
"When I talk about her I well up," says Andy. "The thing about the relationship with my daughter is that—I went through it with my two sons from age 15 to 16—they became different people almost overnight. They become kids to adults almost overnight. And this is the last…this is it for her to be daddy's little girl. It's really going to be a hard one."
Dancing with the Stars has been an uplifting experience for Andy, who became known more for his troubles with drugs and alcohol than for his career.
OK! News: Tarte Cosmetics Unveils Their Aqualillies Collection
"I can walk down the street," says Andy of his time on the show thus far. "This is the first time I've been called light in my loafers and I take it the right way. It's a compliment. I've been happy. I've been sleeping better. I've been feeling better. I walk down the street with confidence. I don't feel like people are hating on me, because it was years of not even wanting to go outside."
Watch Andy and Sharna waltz tonight on Dancing with the Stars at 8/7c on ABC.
Who are you rooting for to win the coveted mirror ball trophy? Tell us in the comments below or tweet @OKMagazine.