NEWS
Arnold Schwarzenegger Fathered Love Child with Former Staffer!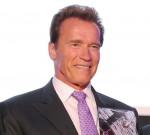 Talk about a bombshell! Just last week Maria Shriver and Arnold Schwarzenegger announced their split after a 25-year marriage. Turns out that wasn't the only shocking announcement from their camp. Arnold has officially publicly admitted to fathering a love child with a former staffer!
OK! GALLERY: MARIA SHRIVER & ARNOLD SCHWARZENEGGER SPLIT — 25 PHOTOS FOR 25 YEARS OF MARRIAGE
Here's the scoop: Over ten years ago Arnold had a child with a member of their household staff. Yes, you read that right. Someone on their staff! As in, in their house. After discovering this truth, Maria moved out of their Brentwood mansion earlier this year. According to The Los Angeles Times (via PopEater), the staffer worked for them for twenty years and retired in January. Her name hasn't been released.
Article continues below advertisement
OK! NEWS: ARNOLD SCHWARZENEGGER AVOIDS MARIA SHRIVER QUESTION WITH AN "HASTA LA VISTA"
In a statement Arnold indicated, "After leaving the governor's office I told my wife about this event, which occurred over a decade ago." He added, "I understand and deserve the feelings of anger and disappointment among my friends and family. There are no excuses and I take full responsibility for the hurt I have caused. I have apologized to Maria, my children and my family. I am truly sorry."