NEWS
Ashley Hebert & Fiancé J.P. Rosenbaum Are Moving to NYC!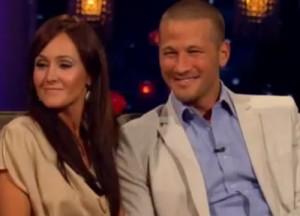 Ashley Hebert found her happy ending in Fiji with J.P. Rosenbaum and the latest couple to survive The Bachelor/Bachelorette franchise debuted for the first time in public on Monday night's "After The Final Rose" special on ABC. But it wasn't all roses as Ashley had to confront Ben Flajnik for the first time since his angry departure. And Ashley's sister Chrystie returned!
Ben opened up to host Chris Harrison about the days after his departure from Fiji — he had to go to his best friend's wedding (sigh).
Article continues below advertisement
"Nice ring," Ben quipped.
Ben's most pressing question was when Ashley made here decision.
"There was a period of time, when I thought you were the one I was going to be leaving with," she explained. "You just have to follow your heart and that's what I did."
"I never thought the day I got engaged would be so gut-wrenching," she added. "To know I was the one to cause that kind of pain and that was hard."
Article continues below advertisement
Then J.P. and Ashley were reunited for the first time since in public!
"We've been dying for this moment," J.P. shared. "It's nothing like I ever experienced before in my life. To keep it a secret, I've been living a double life for months."
He added: "When I'm with her nothing else matters. I'm just so so in love with this girl."
The couple's love seemed genuine and they continued to smooch each other during the interview.
Article continues below advertisement
"To be honest, he's been there for me. Picking me up. We're just a team," Ashley shared. "We are always on each other's side. This is it for me. It's the strongest relationship I've ever had."
J.P. also talked about Ashley's sister Crystie's initial opposition to their relationship.
"I was shocked, that's how it all went down. All I was thinking is her sister hates me and even now I still don't know," he shared.
But Chrystie explained that she was just "trying to protect" Ashley and at first glance Ben seemed like the lifestyle she wanted to lead.
"J.P. I cant even apologize enough," she added. "It's clear to me now, it's clear to all of us — Team Cupcake."
"I'm so excited to introduce him to my kids," Chrystie gushed, adding that she can't wait for family holidays.
Ashley and J.P. also addressed the next step in their relationship.
Article continues below advertisement
"I'm finishing school right now and I should be done in a month, and I'm moving to New York City and we're getting a place together," she shared. "We want to enjoy our relationship and being out in public. We've talked about the wedding. Nothing set in stone."
"We just want a normal life," she added. "We went through the hardest part already."
Watch Ashley and J.P.'s chemistry in a clip from "After the Final Rose" below!