NEWS
Ashton Kutcher on Demi Moore: "My Wife is a Genetic Freak"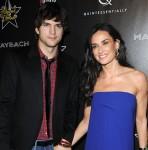 Article continues below advertisement
When Cynthia reminds Ashton that his Demi's biological clock is winding down, he quickly retorts, "I think my wife is a genetic freak... I'm not worried."
In fact, fatherhood has been part of 32-year-old Ashton's life since he married Demi and became step-dad to her three daughters with ex-husband Bruce Willis.
OK! NEWS: TIME MAGAZINE HONORS MOST INFLUENTIAL PEOPLE
"There is something attractive about our third girl Tallulah gaining some independence. I get to walk the dogs in the morning because she can drive herself to school now," he says.
"There is a level of independence that we've never had since our relationship started, and an ability to spend time together doing things that we might want to take advantage of, because in our relationship we've always had kids."
OK! NEWS: KATHERINE HEIGL ON ASHTON KUTCHER: "HE IS STUPID HOT"
Ashton also pays tribute to his his former fiancée Brittany Murphy, who passed away in December at just 32. "You know when you go to a party and everybody is standing around, and the music is going, and you know, sooner or later everyone is going to dance," he says.
Article continues below advertisement
"She was always the first person to dance. And I just try to connect to that and celebrate who she was and how she was, and not make sense of it, 'cause there is no sense of making sense of it."
OK! NEWS: DEMI MOORE: I KNEW ASHTON WAS "SOMETHING SPECIAL RIGHT AWAY"
So how does Ashton stay grounded? Discussing his new movie, Killers, he says: "It's a movie about a guy fighting to be a normal guy, just a normal guy. I'm fighting the same fight. Social media for me and my wife is about saying to people, I'm a normal guy, I have my wife, we have a regular relationship."
However, Ashton enjoys a few perks: "Neither Demi or I cook. I have someone that cooks for me ... that's the best thing ever. I just want to show up and I want my house to be like a hotel ... so I want to have a couple of options. ... I like to have a couple of options."