NEWS
Demi Moore: I Knew Ashton Kutcher Was "Something Special Right Away"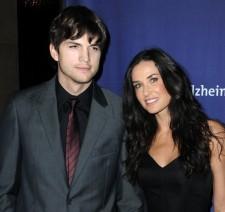 Demi Moore was hit by the thunderbolt when she met husband Ashton Kutcher at a 2003 New York play that she now calls a "life-changing evening".
"I knew it had the potential to be something special right away," the mom-of-three tells the latest issue of Harpers Bazaar, despite their 15 year age gap.
OK! NEWS: ASHTON KUTCHER: "I HATE VALENTINE'S DAY"
"It was like meeting somebody that I've just known where you just recognize one another. It was so disproportionate, the level of emotion we were experiencing to the time we had spent together.
Article continues below advertisement
"But when you don't know someone, you can't just jump and say 'I love you.'" Nice to meet you, I love you! "Yeah. No. We used to end our calls or emails with 'And everything we don't say.' It just seemed too much, too soon."
OK! NEWS: DEMI MOORE: "I'M 47, HOW AM I SUPPOSED TO LOOK?"
So, how did Demi catch the actor's eye? By wearing a strappy blue Proenza Schouler cocktail dress, which she says is "the dress that gets results."
While she denies that Diddy introduced the pair, only admitting that "it was another friend," Demi concludes: "It was an effective evening. It was a life-changing evening."
OK! NEWS: DEMI & ASHTON TALK DATING AND MATING
Now at 47 years old, the former Brat Packer is positive about the aging process. "I feel better in my skin, 100 percent," she says. "That's the trade-off. You have greater effects of gravity, but the better sense of yourself you have is something I wouldn't trade. Women who lie about their age — why?"
Her secrets? She'll try a new skin cream (her latest, Stemulation, along with the Clarisonic Opal, a sonic skin-care machine), "but I'm not an extremist. I mean, I'm not risky with haircuts. Someone did just bring me the latest fad from Russia, though," she laughs. "Horse shampoo and conditioner."