NEWS
Ashton Kutcher Says 'Two and a Half Men' is "Going to Go Through the Roof"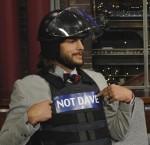 Last night as Ashton Kutcher sat down to chat with David Letterman, he not only talked about how excited he was to return to TV in Two and a Half Men, he joked about death threats against the late night host by wearing a helmet and bullet-proof vest that read, "Not Dave."
OK! NEWS: ANGUS T. JONES MISSES CHARLIE SHEEN BUT HAS ALREADY BONDED WITH ASHTON KUTCHER
Ashton noted, "I gotta watch it man, you can't be too careful sitting next to a guy being fatwa-ed." All kidding aside, Ashton enthusiastically spoke about his new role on the sitcom playing Walden Schmidt, a billionaire computer entrepreneur, as pointed out by Radar Online. Despite Dave's prompting to get Ashton to reveal details about Charlie Sheen's late character, Ashton quipped, "I really like this job, this is an amazing show!"
Article continues below advertisement
He added, "It's the same show ... maybe the dynamics have shifted a little." And according to Ashton, the show is going to rock this fall. "I think it's going to go through the roof, I really do. I've been laughing really hard."
OK! NEWS: CHARLIE SHEEN IS "ROOTING HARD" FOR ASHTON KUTCHER ON TWO AND A HALF MEN — "HE'LL KILL IT"
Considering all of the sparring headlines between Charlie and the show's creator, Chuck Lorre, David asked Ashton, "How about Chuck Lorre, is he nuts?" At that point the actor responded, "He's not nuts at all, he's perfectly sane. He's a great guy and really creatively collaborative."
Ashton also praised his predecessor, Charlie himself! He called him a "lingual genius" after having watched several of his media appearances and web casts.