NEWS
Aziz Ansari Trains for MTV Movie Awards with Pull-Ups & Pomegranates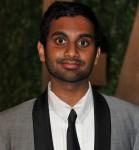 What exactly does one do to prepare for the task of hosting the MTV Movie Awards? Being up there onstage in front of huge celebrities and Hollywood heavy hitters has got to be stressful (especially if Kanye West is in the audience, ready to pounce!). But thanks to former host Andy Samberg, this year's emcee Aziz Ansari feels like he's up to the task.
"I talked to him and he told me that I should just drink a lot of pomegranate juice, and to make sure that I did a lot of pull-ups every day to get in shape," Aziz told OK! of Andy's advice during a conference call with reporters today.
Article continues below advertisement
He won't say if he thinks he can outshine his pal, but Aziz does sound ready!
"Andy is a friend of mine and I thought that he did a great job," he explained to OK!. "I love all of the shorts that he did and he did a lot of fun monologues. I hope that I can hold up to how he did."
OK! VIDEO: WHO IS AZIZ ANSARI?
As for stage-jumper and mic-grabber Kanye, who infamously interrupted Taylor Swift's acceptance speech during last year's Music Video Awards, Aziz is unsure if he'll even be in attendance.
Article continues below advertisement
"I'm not in charge of inviting people so we'll see," Aziz tells OK!, adding that if Kanye is around, he most likely will steer clear of any more controversial acts this time around.
OK! NEWS: CHRISTINA AGUILERA TO PERFORM AT MTV MOVIE AWARDS
"I think that he got enough crap from a lot of people so I think he will probably know to stay in his seat," Aziz says. "This year I'm hoping that maybe Ronnie will interrupt the Twilight piece. He thinks that Jersey Shore should have won best movie."
Reporting by Alyssa Metsky