NEWS
Aziz Prepares for MTV Movie Awards By Obsessing Over Robert Pattinson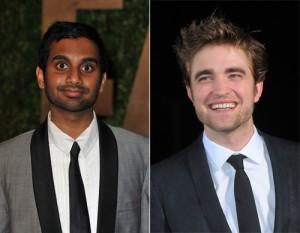 He may be a comedian, but hosting the MTV Movie Awards is no laughing matter to Aziz Ansari. That's why he's been staring at a Robert Pattinson poster since he was announced host.
OK! GALLERY: HAPPY 24TH BIRTHDAY, ROBERT PATTINSON!
"I'm trying to really become one with the audience, so I put a poster of Robert Pattinson on my ceiling and I've been staring at it nonstop," Aziz explained to reporters during a conference call (via New York Daily News)."I'm just looking at it."
Article continues below advertisement
The Twilight Saga: New Moon has received five nominations and is sure to be a fan favorite of the night.
So, Aziz wanted to be completely prepared.
OK! VIDEO: AZIZ ANSARI BEGS KRISTEN BELL FOR HELP WITH EXPLOSIVE DEVICE
"As soon as I was asked to host, the next day I watched both Twilight movies to get a crash course," Aziz said. "My goal is maybe to touch Robert Pattinson's hair or take a photo with Taylor Lautner's abs."
And here's how he looked when he found out Edward is a vampire!