NEWS
'Bachelor' Ben Flajnik Hurt by Courtney Robertson's Lies: "You Never Know Who to Trust"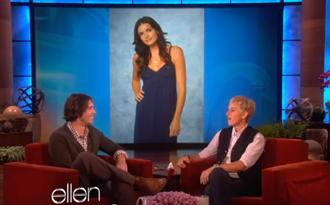 The Bachelor may still be airing on ABC, but in reality, Ben Flajnik has already chosen the woman of his dreams, although, we're (and he's) not sure that woman can be trusted.
"I'm watching a lot of this stuff for the first time with everyone in America," Ben confessed on The Ellen DeGeneres Show yesterday. "Sometimes I'm taken back by some of the ladies' behavior. There are things that I see that I'm kind of like, 'Wow.'"
Article continues below advertisement
And Ellen DeGeneres had plenty of questions and comments on Courtney, too! She grilled Ben on yesterday's episode of her show, telling him that Courtney played him big time.
"Last week, Courtney, she manipulated you to get that rose," a pissed off Ellen told Ben. "She said, 'Oh, I don't know how I feel' and you went and got the rose and gave it to her, that was not right!"
And Ellen's rant doesn't end there! "Now she may be a lovely person, and you're probably engaged to her," Ellen explained as the crowd laughed, "but the thing is, she came off not nice and... it's not fair to judge someone like that, but she was just playing you, man, she was playing you! Saying all the things you wanted to hear."
Article continues below advertisement
"You never know what's going on on that side, you never know who to trust so it's like, I wish there was a mole," Ben explained. "It'd be nice if there was a mole back there feeding me little things!"
Watch Ellen's full interview with Ben HERE!