NEWS
'Bachelor' Cast-Off Emily O'Brien Thankful Ben Flajnik Sent Her Home: "I Dodged a Bullet"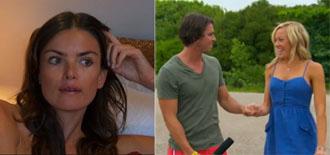 Emily O'Brien may have gotten her heart broken on this week's episode of The Bachelor, but now that she's watched all the drama unfold on TV, she's thankful Ben Flajnik sent her home.
"I've had people say I dodged a bullet. I don't think Ben was ready for a long-term commitment," Emily told reporters during a conference call today, adding, "I won't be happy if Ben ends up with Lindzi, Nicki or Kacie. I think they deserve someone a little bit different or maybe someone who's a little more on their level or a little more grounded. Certainly, I think Courtney and Ben are what each other are looking for."
Article continues below advertisement
OK! NEWS: BACHELOR RECAP: BEN FLAJNIK FINALLY CONFRONT COURTNEY ABOUT HER LIES, BUT DOES HE SEND HER HOME?
So what was Ben looking for? Emily believes his intentions might have been a bit "superficial" and that he had his heart set on Courtney Robertson the minute she stepped out of the car the first night.
"He started to see me as antagonistic of what he wanted, which was Courtney," Emily explained of letting Ben know that Courtney was not who she said she was. "I wish that he had supported me and encouraged me when I confronted him about her instead of reacting the way that he did. I want someone who respects my opinion and respects my feelings."
Emily says she's learned from the experience and has now realized that Ben was not "the right guy for me."
"The most bothersome thing is this double-standard in terms of speaking with Ben," she added. "He asked for openness and honesty and that's the only reason I trusted him to talk about Courtney."
"I think it would have been a big mistake to bring him home knowing what I know now," Emily admitted, "He is not the type of guy that I would want to bring home to my family... So, I'm relieved."
OK! NEWS: BACHELOR'S JENNIFER FRITSCH SAYS COURTNEY ROBERTSON HAS BEN FLAJNIK "CAUGHT IN HER WEB"
As for what she thinks about Courtney, Emily says that although the model is not the nicest person, she is still a person who has feelings just like everyone else.
"It's sad that she had a hard time and that she's having a hard time now with all the fall out," Emily told OK!. "But I'd encourage her to take this as a lesson. If you want people to like you, you have to change your attitude and be nice."