NEWS
'Bachelor' Recap: Ben Flajnik Finally Confronts Courtney Robertson About Her Lies, But Does She Stay?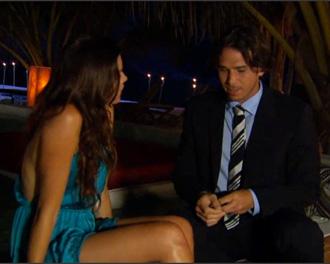 Happy Valentine's Day, OK! readers! And what better way to ring in this lovely day than with a Bachelor recap....
On last night's episode of The Bachelor, Ben Flajnik took the six remaining ladies on a romantic vacation to Belize, but ended the week sending two girls packing — was one of them Courtney Robertson?
Ben starts off the trip with a one-on-one date with Lindzi Cox. The two head out on — you guessed it — a helicopter ride, but this time, Ben decides he wants to jump out of the helicopter into the crystal blue waters of Belize. To Lindzi, this jump signifies her and Ben diving into their relationship and taking a leap of faith... touching. The two share a romantic dinner and then write a fairytale poem which they put into a bottle and send out to sea. Corniest date ever? Probably, but hey, it's V-Day.
Article continues below advertisement
Meanwhile, Courtney is at home sulking that Emily, her number one enemy in the house, is out on a date with the guy she likes. (Honey, this is The Bachelor, you signed up for this, remember?) She tells the cameras, "If I don't get a one-on-one this week, I won't be accepting a rose from Ben." Yup, she's the sincerest of them all.
Well, lucky for the model, she gets a one-on-one date and explores ruins from 100 B.C. with Ben in the jungle. And funny enough, she literally almost ruins her date by telling Ben that they lost "the spark," and she's having trouble finding it. (In our minds, if you lose "the spark" after four weeks, you obviously shouldn't be with this guy).
Article continues below advertisement
OK! NEWS: BACHELOR RECAP: COURTNEY MANIPULATES BEN AND A FAN FAVORITE GOES HOME!
"If anything I respect those kind of things," Ben responds, when she tells him how she's feeling. "It's hard for me not to console you. You made yourself stand out out of anyone else that's been here."
"I have refound the spark," Courtney reassures him after he gives her the attention she needs. "We fit nicely together." Ben is mesmorized by her lies.
On the dinner portion of the date, Ben talks to Courtney about how she's getting along with the other girls, considering he's heard some things about her from Emily. Courtney lets Ben know that she thinks the other girls are "plain as vanilla" and she finds nothing interesting about them. She also admits she doesn't have many girlfriends at home, but "a lot of guy friends." Ben tells the cameras later on that he's worried about Courtney not getting along with other people — he doesn't want to be with someone who doesn't get along with his friends or family. (Then run Ben, run!)
Article continues below advertisement
After his date with cunning Courtney, Ben heads out on an early morning boat trip with Rachel Truehart, Nicki Sterling and Kacie Boguskie. The foursome go swimming with some sharks, something Rachel is terrified to do, leading her to nab a lot of one-on-one time with the Bachelor, who keeps her company and calms her nerves throughout the morning.
In the afternoon, Ben rekindles his flame with Kacie in the hot tub and gets closer with Nicki, who tells him she definitely thinks her family will see what a wonderful man he is. Ben ends up giving Kacie the rose.
But it doesn't end there. The three girls warn Ben to be "cautious" and "tread lightly" around Courtney, who they feel doesn't have the truest intentions when it comes to him and the show. He's surprised, but appreciates the ladies watching his back.
At the rose ceremony, Ben lets Chris Harrison know that his mind is made up and that a cocktail party is unneccesary. When he arrives to hand out the roses, he asks if he could have a quick word with Courtney, who excitedly skips off with Ben, while the other girls contemplate what could be going on.
Article continues below advertisement
OK! VIDEO: BEN FLAJNIK AND COURTNEY ROBERTSON GO SKINNY DIPPING ON THE BACHELOR
"I know it's been difficult for you, I just want to know that you are in this?" Ben asks Courtney, who responds with, "The only reason I'm here is for you. It's been hard for me, but I think we can make each other happy. I've been nothing but honest and open."
Ben ends up keeping Courtney around (of course!), and also gives roses to Nicki and Lindzi. Heartbroken Rachel and Emily are sent packing.
Next week, Ben meets the remaining women's families... We wonder if Courtney's parents are as manipulative as she is.