NEWS
'Bachelor' Host Chris Harrison: "I Was Happy Ben Flajnik Cried" at the 'After the Final Rose Special'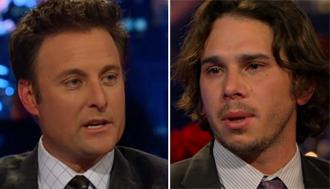 Article continues below advertisement
"Partly, I was happy to see Ben cry," Chris told OK! during a confrence call today. "It was the culmination of them just being exhausted and it's a lot to deal with. It was nice to see that both he and Courtney could let down their guard down and that they did it together."
As for whether or not he believes Courtney — whose behavior on the show was anything but admirable — was genuinely heartbroken over what is going on in her life right now, Chris says yes.
"I do see a genuine side and a very vulnerable side to Courtney," he explained. "People may say, 'Oh you're drinking the Courtney Kool-Aid,' but I'm not justifying anything or saying she's Mother Teresa. This situation got the best of her," he added. "She was sincere and real when she cried."
And Chris, whose become close with Ben over the past two seasons, says he was a little disappointed when he found out Ben cut off all contact with Courtney for several weeks while the show was airing.
Article continues below advertisement
And although they've had their fair share of ups and downs already, Chris has faith that Ben and Courtney, who are currently traveling back and forth from San Francisco to Santa Monica to visit each other, will work it all out.
"Of course I'm rooting them on," he said. "I know that she wasn't the most popular choice, but the great thing about this show is that it's ultimately Ben's choice."