NEWS
Bachelor in Paradise: Jesse Kovacs Dishes on His Arrival in Mexico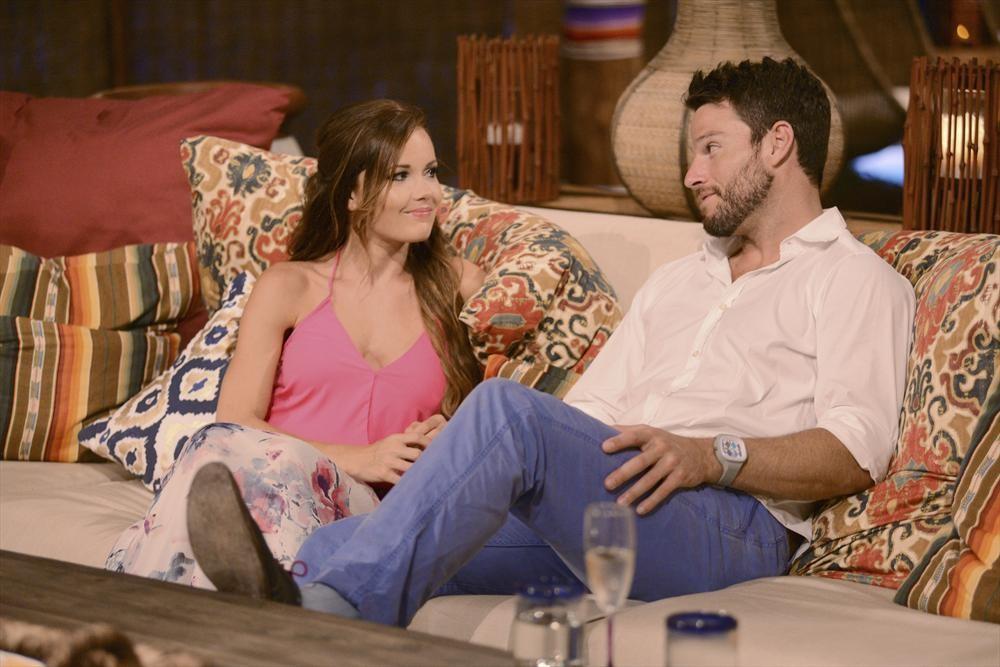 Bachelor in Paradise has been deliciously fun to watch, but I'd be lying if I didn't admit I cringe a little every time a new contestant enters the fray and has to suss out who is coupled up already and who is still on the market. Jesse Kovacs (Jillian's season and Bachelor Pad) arrived on the scene in Monday night's episode and shares with OK! his initial thoughts on the group.
Article continues below advertisement
OK!: This is your third experience with The Bachelor family—why do you keep coming back?
Jesse Kovacs: With the first one (The Bachelorette) it was just an experience and I had no clue what I was getting into. The second one (Bachelor Pad) was…I'm super highly competitive so the second one was a chance to win $250,000. And I feel like with this one I had been out of the whole Bachelor scene for almost five years. I was in a serious relationship and had started a business. It was right after…it seemed like right after my girlfriend and I split up I got a call from one of the producers and he just wanted to gauge my interest, "Do you want to do this other show because I know you're single now?" I had been away from it for so long I just figured, "Why not give this a chance?" It is a cool opportunity and you get to do a lot of cool things and meet some interesting people. It was actually terrible timing because I was just starting a new business but I talked to my business partners and they said, "Yeah, yeah, you've got to do it! It's going to be hilarious!" I'm kind of just an experience guy and when an opportunity comes up like that it's hard to pass up.
OK! News: The Sweet Advice Bachelor in Paradise Star Michelle Money Will Give Her Daughter
OK!: Were there any former contestants you were hoping would be in Mexico?
JK: No, it was exactly the opposite. I had been out of the scene for over four years and I didn't watch the shows after…I can barely sit through the ones I'm on so I didn't watch any of the others. I didn't know anyone. When I knew I was going to be on the show I didn't do any research on any of the guys or girls who were on previous shows. I didn't know anyone going into this thing and that was kind of fun.
MORE ON:
Bachelor in Paradise
Article continues below advertisement
OK!: What was it like walking into this environment where the rest of the cast had been hanging out and forming relationships for a few weeks already?
JK: It was super awkward. I walk up and I don't know anyone and it's 110 degrees, humid and I'm wearing a collared shirt and slacks. The feeling immediately is awkward but I didn't see any of the drama because literally I had a date card in my hand and I go on a date right away. I talked to a few people and then I'm off on a date so I missed any awkwardness between the other contestants and other people on the show. I didn't find out until the next day or so, immediately I didn't feel any of it.
OK! News: Bachelor in Paradise's Graham Bunn Admits He Went to Mexico to Meet One Person
OK!: How do you go about deciding who you're going to hand that date card to?
JK: I talked to a couple of people and they kind of gave me a rundown of which people were in couples. That was very strange to me because how convenient that there's x amount of people and all of a sudden they all like each other and they've all kind of paired up. It seemed very odd to me—it's a perfect amount of people and everyone likes each other. I talked to a couple of people and I just felt like the most easy going and most available was the person I picked (Spoiler: If you haven't seen Monday night's episode yet, he chose Jackie).
Article continues below advertisement
OK!: You also arrived on a week where the girls have the power of the rose, how stressful was it knowing you could be going home the very next day if you didn't make a connection immediately?
JK: I didn't want to show up for one day and then have to go home. After all of that traveling and preparation that would have sucked for sure. I didn't want to force the issue and make an ass out of myself trying to get a rose. I feel like some people did things just based on the fact they wanted to stay and not because they actually liked someone. They would do anything to stick around. I'm not really like that so I was just myself and hoping it would all work out. Fortunately it did but that's not to say later on I wasn't faced with the same issue. I wasn't too worried about it because I wasn't trying to be someone I wasn't.