NEWS
'Bachelor' Recap: Courtney Robertson Manipulates Ben Flajnik & a Fan Favorite Goes Home!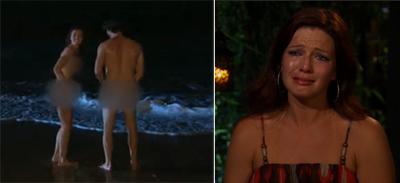 Courtney Robertson kept up her "winning" streak on last night's episode of The Bachelor, manipulating Ben Flajnik into breaking the rules and skinny dipping with her in Puerto Rico. And although the other girls have no idea about the stunt Courtney pulled, we're sure they'll find out soon enough!
To start off the night, Ben takes Nicki Sterling — one of our favorites — on a well-deserved one-on-one date. The pair explore the town of Vieques Island, Puerto Rico, although their pleasant stroll is cut short when it starts to downpour. That's when Nicki and Ben decide to go into a shop and buy authentic Puerto Rican clothing, which they end up wearing while watching a wedding at the church in town. How sweet!
Article continues below advertisement
Onto the group date of the evening, Lindzi, Courtney, Jennifer, Kacie B., Emily, Casey S., Rachel, Jamie and Blakeley join Ben for a little game of baseball! The nine girls are split up into two teams in order to duke it out for a chance to go on the night portion of the date. Only one team will get to go, while the others will be sent back to the hotel. Ben chooses Lindzi to play on both teams, guaranteeing her a spot at dinner later that night.
Article continues below advertisement
The red team consists of Courtney, Kacie B., Casey S. and Jamie, while the blue team includes Jennifer, Emily, Rachel and Blakeley. Although all the girls play their hardest, the red team ends up winning in the last inning and scores a smaller group date with Ben on the beach. Of course, the blue team is devastated and cries like it's the end of the world. Get a grip ladies, it's only Ben Flajnik for goodness sake.
On the beach later that night, Ben spends quality time with all five of the ladies, but ends up giving the rose to Kacie B., who is obviously a frontrunner in the fight for Ben's love. Cunning Courtney realizes this and gets nervous, so she steals Ben away for a romantic walk along the shore, offering up an idea.
OK! VIDEO: BACHELOR BEN FLAJNIK & COURTNEY ROBERTSON GO SKINNY DIPPING!
"All I could think about is you," she gushes to Ben. "Ideally it would be you and me and a bottle of wine and skinny dipping... Maybe we can orchestrate something." Oh, and does she ever orchestrate.
Article continues below advertisement
Ben's second one-on-one date is with personal trainer Elyse, who hasn't really spent a lot of time with him. This fact is obvious as the pair share a romantic afternoon on a private yacht before heading to dinner on the beach. Ben is just not into Elyse, who at 24, tells him she's accomplished everything she wanted to in life and is ready to settle down. Ben just doesn't think this is realistic, and after a little thought, decides that his connections with the other women are much stronger and sends her packing.
So, a moping Ben heads back to his room only to find Courtney, dressed only in a robe, sitting on his steps with a glass of wine, sporting that evil smile of hers.
OK! NEWS: BACHELOR RECAP: ONE OF THE GIRLS WARNS BEN FLAJNIK ABOUT CUNNING COURTNEY ROBERTSON
"I don't know if he's ever skinny dipped with a model before," Courtney tells the cameras, "It could be fun." What exactly is the difference between skinny dipping with someone who is not a model? Yeah, we don't know either.
Article continues below advertisement
"I'm going to rock your world," Courtney tells Ben as they strip down naked and run into the water. How were those double As there, Ben? We're sort of disappointed in you for falling for Courtney's tricks and acting like a typical guy. We know your choice between brains and beauty....
"Courtney and I shared a very intimate moment," Ben confesses before the cocktail party. "I feel kind of crappy about what happened." Oh, now you feel crappy! Nice.
But, Ben doesn't tell the other girls — neither does Courtney — and goes on with the night. Although Courtney does joke around that she loves being "in her birthday suit" and would die to go skinny dipping in Puerto Rico, none of the girls really catch on, just contribute to the conversation.
And while this is going on, Emily lets Ben know — once again — that Courtney is deceiving and is not a kind person. Ben gets pissed — once again — and lets Emily know to "be careful" when she brings things like that up to him.
Although we assumed Emily would be sent home after that, Ben keeps her around and shockingly sends sweet redhead Jennifer home. We thought she was a frontrunner! Ben even told her she was the best kisser in the house, but we guess Courtney's nude beach date changed his mind.
What did you think of Courtney's scheme?