NEWS
'Bachelor' Recap: Ben Flajnik Visits the Women's Hometowns and Sends a Front-Runner Home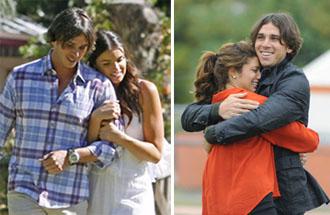 Last night's episode of The Bachelor proved that Ben Flajnik believes family is everything. After meeting the remaining women's parents, Ben sent home the one bachelorette we assumed would make it all the way to the end!
First up, Ben visits Lindzi Cox in her hometown of Ocala, Florida. Just like the first time they met, Lindzi rides up on her horse and wows Ben with her skills... and killer legs. Then, Lindzi introduces her mom and dad, who are just as lovely as she is. Before they head out for an intense carriage race (yes, they raced horses around their yard and it was adorable), Lindzi's parents reveal that they actually tied the knot in San Francisco's City Hall, the same place Ben and Lindzi had their first date! Is it fate? Sounds like it!
Article continues below advertisement
OK! NEWS: BACHELOR CAST-OFF EMILY O'BRIEN IS THANKFUL BEN FLAJNIK SENT HER HOME: "I DODGED A BULLET"
Lindzi's parents take a fast liking to Ben and let him know that he would make a wonderful son-in-law. Although Lindzi's mom is a little bit skeptical of The Bachelor process, she has a good feeling about Ben and Lindzi's relationship.
Next up, Ben heads to Clarksville, Tenn., to meet up with Kacie Boguskie. Kacie shows off her baton skills with the help of a huge band, who marched across the football field named after Kacie's grandpa, Buster Boguskie, a legend in Clarksville. Ben and Kacie enjoy a nice chat on the bleachers before heading to her house to meet her mom, dad and sister.
Ironically, Kacie's dad is a probation officer who doesn't drink, something that winemaker Ben is weary about, considering he's "in the business of booze." And as it turns out, Kacie's dad is as tough as he sounds, not warming up to Ben at all during the course of the night. And strangely, Kacie's mom isn't too fond of this whole show either, telling Ben that she would never allow her daughter to move in with him in San Francisco. Harsh!
Article continues below advertisement
So, it might not have gone so smoothly at Kacie's house, but Ben got a much warmer welcome at Nicki Sterling's hometown of Fort Worth, Texas. The pair first head out to buy Ben a pair of cowboy boots, before meeting her dad, mom and brother. Although Nicki's parents have been divorced for years, they share a loving relationship and are truly focused on the happiness of their children. Considering Nicki was already married once before, her parents don't want to see her get hurt again and try to understand her feelings for Ben.
Article continues below advertisement
Nicki's parents are warm and gracious towards the Bachelor, and they really hit it off. Nicki's dad tells her that she's glowing and he can see how happy Ben makes her. He wishes them well and calls Ben a "tremendous young man," something Nicki obviously agrees with, as she tells Ben she's in love with him... Aww!
Lastly, of course, Ben meets Courtney Robertson's mom, dad and sister in Scottsdale, Arizona. Not only does Courtney's family get along with Ben, they seem like wonderful, down-to-earth people who just want what's best for their daughter. We were surprised that her family was so lovely, considering Courtney comes off as a monster, whose only goal is to win, on the show.
OK! NEWS: BACHELORETTE WINNER J.P. ROSENBAUM "WOULDN'T PICK" COURTNEY ROBERTSON FOR BACHELOR BEN FLAJNIK
Actually, Courtney seemed genuine and showed true feelings for Ben as they left her parents' house and spent some quality time together in a place that Courtney "would love to get married" at one day. The pair get the chance to feel what it's like to tie the knot, as Courtney plans a faux wedding and has Ben walk down the aisle with her. They write vows, read them aloud in front of a "preacher" and kiss after Courtney reveals that she's in love with everyone's favorite winemaker.
Back in L.A., Ben meets up with Chris Harrison, who lets the ladies know that one of them will be going home. At the rose ceremony, Ben shockingly sends, drumroll please, Kacie B. home and lets Lindzi, Nicki and Courtney know that they will be joining him in Switzerland.
Kacie is heartbroken, as she should be, considering, in our minds, her parents ruined her chances of being with Ben.
What did you think of last night's episode?