NEWS
'Bachelor' Recap: Shawntel Newton Joins the Fight for Ben Flajnik's Heart, But Does He Give Her a Rose?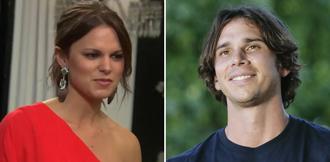 If you don't remember Shawntel Newton from Brad Womack's season of The Bachelor, you will now! The funeral director crashed the cocktail party on last night's episode of The Bachelor, shocking not only the 16 women vying for Ben Flajnik's heart, but Ben himself!
But Shawntel's intrusion wasn't the only thing that literally made last night's rose ceremony "the most dramatic yet." One girl leaves the competition and another collpases right before Ben is about to hand out the final rose of the night!
Article continues below advertisement
OK! NEWS: JIMMY KIMMEL PREDICTS BEN FLAJNIK'S FINAL FOUR WOMEN!
The episode began with Ben's one-on-one date with Emily, which consisted of the two of them strapping on some gear and climbing the Bay Bridge in San Francisco, Calif., where all the dates will be taking place this week. Yes, you heard me correctly — they actually climbed the Bay Bridge and sadly, it wasn't pretty. Of course Ben picks the one girl who is deathly afraid of heights to join him on this adventure, and Emily has a major meltdown halfway through the climb. But, Ben to the rescue! The Bachelor cured all of Emily's fears by, you guessed it, making out with her. Ah, young love.
Emily and Ben finally make it to the top, celebrate, kiss a little more, walk back down and head to dinner, where Emily obviously gets a rose for conquering her fear.
Next up, Ben and some ladies head on the group date, which was quite interesting if you ask me. The Bachelor team set up a fake ski slope in the middle of a San Francisco street and the girls stripped down to their bikinis to ski in 80 degree weather. Let's just say it was bizarre, but absolutely hysterical. Especially when some of the girls have NO IDEA how to ski — let alone in their skivvies.
Article continues below advertisement
OK! NEWS: BACHELOR RECAP EP. 2: BEN FLAJNIK SENDS TWO WOMEN PACKING!
While the group date is happening, Brittney receives a date card from Ben, letting her know that they will be going on an one-on-one. But rather than feeling thrilled, Brittney is horrified and decides to leave.
She crashes the night portion of group date and lets Ben know that this isn't for her and she will be leaving. And the end of the group date, Ben gives a rose to Rachel, who impressed him with her intellect and kissing skills.
So since Brittney left the house, Lindzi gets Ben's sloppy seconds and goes on the one-on-one date. Of course, it's lavish and romantic and even Matt Nathanson shows up to give the pair a private performance before they share a romantic dinner. Ben gives "sexy" Lindzi a rose, and she couldn't be happier.
But then, the drama settles in. Between cunning model Courtney, who verbally abuses almost every girl in the house before putting a show on for Ben, and the arrival of Shawntel, the cocktail party is INSANE.
Article continues below advertisement
OK! NEWS: BACHELOR BEN FLAJNIK ALREADY FACES TONS OF DRAMA ON THE SEASON PREMIERE!
Shawntel calls up host Chris Harrison, telling him she has arrived, gets all glammed up and crashes the party, walking straight past the girls and right to Ben, whose reaction is, "Oh, s**t."
"When I found out you were the Bachelor, I was not happy because I wanted to get to know you because I felt something," Shawntel tells Ben of the first time they met. "So I decided that I have to know. I want to be at the rose ceremony. If you'd be willing to give me a rose, I'd be really happy." Whoa, now just imagine how the other girls reacted — and then times that by 10, since these contestants are bat s**t crazy.
So with worry and infuriation in the air, the rose ceremony is intense, and everyone feels the pressure, especially Erika, who passes out right before Ben is about to hand out the final rose, deciding between Shawntel, Erika and Jaclyn. He decides that all three of them aren't right for him and sends them packing. Shawntel and Jaclyn cry, as Erika, who collapses again, doesn't really know what just happened.
So, there you have it, the dramatics and over-the-top women of this season lived up to their reputations once again. Now on to Park City, Utah!