NEWS
Ben Flajnik Already Deals With Tons of Drama on Season Premiere of 'The Bachelor'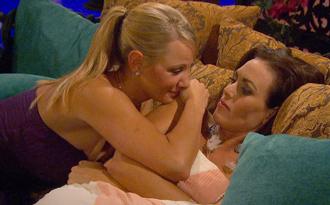 Article continues below advertisement
Let's just say, when a 72-year-old woman on crutches steps out of the limo to meet the bachelor, you know it's going to be a season of surprises.
The elderly woman was Sheryl, the grandmother of 26-year-old contestant Brittney from Denver, Colo., who is enamored of Ben and wanted to fulfill her dream of being on The Bachelor. And, evidently, Brittney's little family trick worked! Ben adored Sheryl, saying, "That's too cute — I love grandmas," before giving her a rose later in the evening.
But Brittney wasn't the only one who brought along a pal — Seattle's Lindzi C. didn't step out of a limo, but showed up riding her horse Levi! Her act won over Ben immediately, and he gave her the infamous first impression rose.
OK! NEWS: J.P. ROSENBAUM TAKES 'BACHELORETTE' ASHLEY HEBERT TO HER FIRST HOCKEY GAME!
Although their meet-and-greets with Ben were a little strange, we have a feeling Brittney and Lindzi will be sticking around for a while, unlike three other girls who shockingly walked away with roses even though they stirred up a humongous pot of drama!
Article continues below advertisement
Jenna from Ohio, Monica from California and Blakeley from North Carolina are three bachelorettes who will go down in history just for their bizarre behavior at the first cocktail party.
Jenna, a blogger who now resides in NYC, had an apparent mental breakdown equivalent to that of Bachelor Pad contestant Melissa after Monica "made fun of her" and hurt her feelings. Instead of just brushing it off, Jenna had a temper tantrum and ended up locking herself in the bathroom. She continued to cry until she realized she was late for the rose ceremony and embarrassingly creeped back into the room as an impatient Ben watched.
OK! NEWS: HOLLY DURST WINS BIG ON BACHELOR PAD 2!
Troublemaker Monica wasn't only involved in Jenna-drama. She actually caught a lot more attention for hitting on fellow female contestant Blakeley, who didn't seem to mind the romantic advances. "You're beautiful and amazing," Monica told Blakeley, as she stroked her hair and cuddled with her on the couch. "There is something to say about a gorgeous, real woman," Monica added. Oookaaaay....
Surprisingly, Ben gave roses to all three girls, who join the other 15 lucky women who will continue to fight for his affections this season.
What did you think of the girls? Share your opinions!