NEWS
'Bachelor' Sneak Peek: Ben Flajnik Chooses a Lady For a One-On-One Date!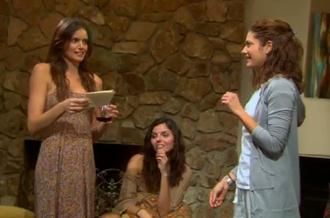 The Bachelor is back with an all new episode tonight, and the claws are coming out!
In this preview, Ben Flajnik's one-on-one date pick is revealed, and the ladies aren't happy about who Ben chose to spend a romantic evening with. Drumroll please... the gorgoeous model contestant Courtney.
OK! NEWS: BEN FLAJNIK ALREADY FACES TONS OF DRAMA ON SEASON PREMIERE OF THE BACHELOR
Instead of being gracious when she finds out she gets to spend quality time with Ben, Courtney rubs her excitement in all the other girls' faces. "He wants to kiss me," she announces, "Wow. How did that feel coming out of your mouth," she smuggly asks Kacie, who read the date card aloud. "What?" Kacie replies.
Article continues below advertisement
"Courtney is trying to deflate all of the girls in the house right now who haven't gone on a date," contestant Erika says in a confessional. "I thought maybe she was a real person at first. She's not. She's just not. She's doing things to be better and rub it in your face. She's purposely doing this to get under our skin. To be quite frank, it's working. Congratulations Courtney, you got under our skin. It worked."