NEWS
'Bachelor' Star Kacie Boguskie Says Ben Flajnik & "Two-Sided" Courtney Robertson Won't Last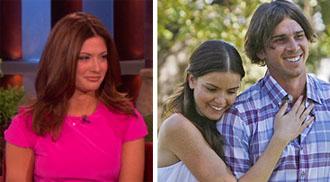 Article continues below advertisement
"I think after all of this, Ben choosing Courtney doesn't affect how I feel about him as a person. I really think he's a great guy," Kacie told OK! during a conference call.
But when it comes to Courtney, Kacie is not as forgiving.
"I think she has two sides," Kacie explained. "There was a side she had around the house and there was a side she had around Ben. I have a problem with somebody that has two different sides, and I don't know which one is really you."
Ben seemed to only want to believe that Courtney was the fun-loving, dorky girl he spent time with on their one-on-one dates, when in reality, he got to see first-hand her behavior towards the other women when he watched the season back.
OK! NEWS: BACHELOR BEN FLANIK: "KACIE BOGUSKIE IS MORE ATTRACTIVE THAN COURTNEY ROBERTSON"
"It wouldn't surprise me if they're already broken up," Kacie admitted. "It might make things very hard for them to work through. It would be hard for me as a person to watch that and not have a lot of questions," Kacie added of Courtney's on-air attitude.
All Kacie can hope for is that Ben is happy and didn't or won't get his heart broken by Courtney, who is rumored to be the woman he chooses in the end.