NEWS
'Bachelorette' Emily Maynard Admits She Regrets Sending One Guy Home & Talks Brad Womack!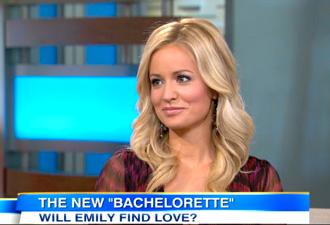 The new season of The Bachelorette may have just started, but Emily Maynard admits she already has some regrets about whom she sent home on the first night.
The single mom, who got rid of six guys following her initial meet-and-greets, stopped by Good Morning America this morning and revealed that she wishes she would have kept Randy, who dressed up as a grandma for his introduction to Emily. (Randy was obviously playing around — poking fun at Brittney, who brought her grandma to the first cocktail party for Ben Flajnik's season of The Bachelor.)
Article continues below advertisement
OK! NEWS: EMILY MAYNARD WAS WORRIED BRAD WOMACK OR BENTLEY WILLIAMS WOULD APPEAR ON THE BACHELORETTE PREMIERE
"I do regret sending Randy home," Emily told GMA. "I think that took a lot of guts and he was just trying to stand out. I gotta give him some credit!"
Emily admits that some of the guys' entrances were a bit weird, but she's glad she got to see their personalities shine through.
"The entrances were a really great learning lesson for me because those guys that I normally would of just said, 'No Way!' to, I was forced to really get to know them and I was surprised by a lot of them," Emily said. "They're really great guys."
Article continues below advertisement
"Brad and I are on great terms," she revealed. "We don't really talk as much as we used to, which is probably a good thing — to put space and distance between the two of us."
"It worked out for me well the first time," Emily added. "I know people said, 'You didn't get married, it was a failure,' but for me just falling in love is a success and I know it can work and I learned so much about myself."
The Bachelorette is on ABC tonight at 8 p.m.