NEWS
Emily Maynard Was Worried Brad Womack or Bentley Williams Would Be on 'The Bachelorette'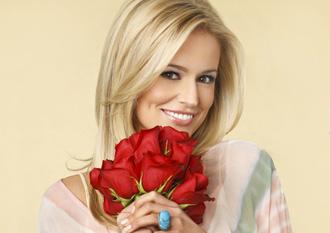 Emily Maynard officially let out a sigh of relief after making it through the first cocktail party and rose ceremony of The Bachelorette unscathed. Not only did she get to meet 25 incredible guys, but her ex Brad Womack and former Bachelorette villain Bentley Williams were nowhere in sight. And to be honest, Emily was worried one of them may have popped up!
Emily confessed in a conference call with reporters yesterday that when she watched the helicopter — carrying pompous contestant Kalon — land on the front lawn, she totally thought Brad or Bentley was inside!
Article continues below advertisement
"Anybody that knows me knows I would take a classic pickup truck over a brand-new Ferrari any day. So, if Kalon was trying to impress me, he probably took the wrong approach," Emily admitted, adding that "he's very unique and he is who he is."
OK! NEWS: BACHELORETTE RECAP: EMILY MAYNARD HANDS OUT HER FIRST IMPRESSION ROSE & SEND SIX MEN HOME
"I definitely thought it was going to be Brad or Bentley getting out of the helicopter," she added, revealing she expected some drama. "I just thought there is no way some random guy would make an entrance so gigantic. I was stressing out a little bit to be honest, waiting for whomever to get out of the helicopter."
"I don't know how I would have reacted to be honest," Emily said. "I tried to stay open to everything and I'm just really glad that everybody I met the first night was a fresh face and someone that I had never met before."
One of those "fresh faces" was hunky, single dad Doug, who earned Emily's first-impression rose.
"Obviously, he is a great-looking guy and so sweet, but more than anything, I know what it is like to really put yourself out there and take a chance at love and have to leave the biggest piece of your heart back home," Emily explained of Doug and his son Austin, 11. "The fact that he had enough faith in me – to leave his son back home really meant a lot to me. I wanted him to know that it wasn't something that I took lightly."
Article continues below advertisement
As for whether or not Emily has found love and is currently engaged, the single mom of six-year-old Ricki wouldn't say, but she did admit that she's "happy."
"I was happy before I went on the show, but I'm really happy now," Emily said. "I had a great group of guys. I had the time of my life and learned so much about myself. It was the best experience, getting to travel and to give Ricki the opportunity to see things she wouldn't have otherwise."