NEWS
'Bachelorette' Recap: Emily Maynard Goes on the Dreaded Two-on-One Date & Reveals Her Crushes!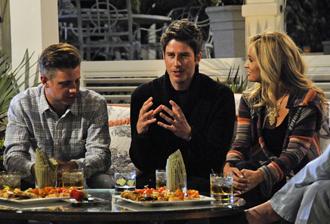 Emily Maynard's selection of men on The Bachelorette is dwindling down, but it's not making her decision any easier. On last night's episode, Emily candidly revealed to host Chris Harrison which guys have stolen her heart and which guys she thinks might break it!
Emily and her remaining men headed to Bermuda, the first stop on their international tour after leaving behind Emily's hometown of Charlotte, N.C. The guys were excited, but nervous considering this week brought on the dreaded two-on-one date, where Emily picks two guys to spend the day with and then automatically sends one packing.
Article continues below advertisement
OK! NEWS: BACHELORETTE PREVIEW: RYAN ADMITS HE'S ONLY ON THE SHOW TO BECOME THE NEXT BACHELOR
First up though, Emily took single dad and first impression rose winner Doug on her only one-on-one date this week. As usual, sparks flew between the two and they bonded over their children and life experiences. But Emily is starting to think Doug is too perfect after he says the "right thing" over and over... and over. Emily ends up gifting Doug with a rose after their intimate island dinner, but she's still weary over his "perfect" personality.
Next up, Emily takes eight guys on a group date and has them battle it out for her attention. She puts their macho-man skills to the test and splits them up into teams of four before sending them out on sailboats to compete in a race to earn the right to go on the second portion of the date.
The yellow team is made up of Ryan, Kalon, Arie and Jef while the red team consists of Sean, Chris, Travis and Charlie. Although the red team takes the early lead, the yellow team ends up winning and gets to join Emily for a romantic night in Bermuda, while the other four guys get sent back to the hotel empty-handed. (We must say, some of these guys whined a little too much about losing and it got sort of annoying... get over it!)
Article continues below advertisement
During the second half of the group date, Emily spends alone time with each of the guys and really clicks with 26-year-old Jef, who is obviously smitten with the blonde beauty. Although he doesn't kiss her after their intimate conversation, Emily says she's happy because it leaves her with something to look forward to! (Plus, she got plenty of face time with Arie, who can't seem to keep his eyes, hands or lips off of her).
Emily ends up giving Jef the rose and left the other three guys contemplating their future with her.
Lastly, Emily went on the terrifying two-on-one date with Nate and John, who have both been flying under the radar when it comes to impressing her (and us!). Although both guys are great, it's obvious Emily has a stronger connection with John and after an awkward dinner date, she decided that he's more compatible with her. Nate got sent home, most likely due to his young age — he's 25 — and his inexperience in the dating world.
Article continues below advertisement
OK! NEWS: BACHELORETTE RECAP: EMILY MAYNARD SENDS TWO GUYS HOME BEFORE THE ROSE CEREMONY!
At the cocktail party, Doug and Chris, who have been at it all week, shared words about their age, which apparently was a huge deal on this episode! Chris, who's 25, argued that age doesn't determine maturity, while Doug, 33, stood by his opinion that age brings life experience and prepares you for a relationship. To be honest, this "argument" was dull and unnecessary — we were more interested in Ryan's narcissistic conversation with Emily!
Ryan, who impressed Emily in the beginning, is starting to show his true colors, which aren't so pleasant. Aside from calling her a "possible trophy wife," Ryan tested out Emily to see if she could "measure up" to his standards — standards he says are necessary since he's a "great catch" and very blessed. And if that didn't irk you enough, Ryan admitted in a confessional that he really just wants to be the next Bachelor and doesn't really know if he even likes Emily! EW.
Article continues below advertisement
During her chat with Chris, Emily revealed she could see right through Ryan and his confidence, but still feels something between them. She also admitted that she has a huge crush on Arie, as well as Jef, who we think will be the last men standing if they keep up the good work.
At the surprising rose ceremony, Emily kept smug Ryan and sent home two of the sweetest guys on the show — Charlie and Michael (who we think was one of the cutest contestants, yet he hardly got any air time — what's up with that!?).
Next week, Emily and her remaining men travel to London — are you excited?