NEWS
'Bachelorette' Recap: Emily Maynard Takes One Guy Home & Performs With The Muppets!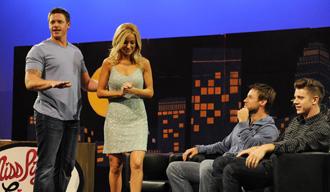 It was an exciting week two for The Bachelorette's Emily Maynard and the 19 men who are fighting for her affections. Not only did Emily go on her first two one-on-one dates, but she and some of the guys got to put on a spectacular show with the one and only.... Muppets!
For her first date, Emily chose Ryan to join her for a fun-filled afternoon. But, this date wasn't your typical Bachelor extravaganza. Emily took Ryan to her house in Charlotte, N.C. — where this season is being filmed — made him carry in her groceries and then let him know that they would be making cookies for her daughter Ricki's soccer team! So adorable!
Article continues below advertisement
Later that night, Emily took Ryan to her favorite restaurant in Charlotte, where they enjoyed an intimate meal and nice conversation. These two definitely hit it off! Emily gave Ryan a rose before they headed outside to enjoy a private concert with some Charlotte residents and the country band, Gloriana.
Next up, Emily took a group of guys, including some of our favorites Jef, Charlie and Michael, to perform at a benefit for the Levine's Children's Hospital on behalf of the Ricky Hendrick Foundation. But they wouldn't be performing alone. Emily and The Bachelorette producers invited The Muppets, including Kermit the Frog, Miss Piggy and Fozzie Bear, to help the guys bring the house down.
Article continues below advertisement
The men sang to "Rainbow Connection," danced, competed in a live dating show and put on a comedy skit for the crowd, which included some very special guests: Emily's mom and daughter Ricki. Emily had a blast and even got the chance to bring Ricki on stage to sing with her and Kermit.
The bachelorette seemed to have eyes for Charlie, who confronted her about his past and his current struggle with a speech impediment due to a life-threatening accident, and Jef, who definitely gives Emily butterflies.
Article continues below advertisement
Emily tried so hard to connect with Joe, who she think looks like Matthew McConaughey, but just didn't feel the sparks between them. In a heartbreaking moment, a tearful Emily sent a surprised Joe home.
Emily was devastated, but realized she still had two guys to send packing. At the cocktail party, Emily had special conversations with Jef, Arie, Kalon and Tony, who let her know that he has a 5-year-old son Taylor at home.
Also, Emily received a touching letter from Ryan, who thanked her for their one-on-one date and told her how much he cares for her.
During the rose ceremony, a nervous Emily eliminated Kyle and Aaron. Who will go home next week?