NEWS
Would 'Bachelorette' Reject Sean Lowe Date Emily Maynard Again If She's Still Single?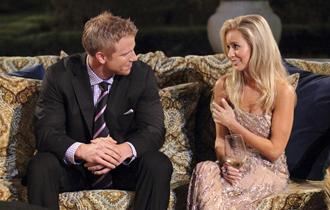 Many are speculating whether or not Emily Maynard ends up alone on The Bachelorette after a shocking preview of the season finale showed her confessing, "I'm done!"
But would her latest reject, Sean Lowe, be interested in giving their relationship another go if she is in fact single? Not so much!
OK! VIDEO: DOES EMILY MAYNARD END UP ALONE ON THE BACHELORETTE?
"I would not accept it," Sean told OK! on whether he'd go on a date with Emily if she called and begged him back. "But I have nothing but wonderful things to say about her."
Article continues below advertisement
"I understand it's not for me," he added of their relationship. "A woman will have no doubts when she wants to be with me."
But despite his feelings on rekindling their romance, Sean admits that everything he told Emily on the show was real and that he truly fell in love with her.
"The feelings that I had and telling her that I loved her, they were real," he explained. "But I know she had to do what's best for her and I now I understand that being with her wasn't the best for me either."
Article continues below advertisement
"It came down to connection and her connections with Jef Holm and Arie Luyendyk Jr. were stronger," Sean said of how he felt when Emily said she wanted it to be him "so, so bad."
"I was replaying everything in my head and going over things... but my family's reaction was love and support and that's really what helped me get over the whole thing."
So although it took him awhile to let go of Emily, Sean says watching the show back has helped him fully move on and start looking for love again.
"Watching her relationships with Jef and Arie has been pretty therapeutic for me," he admitted. "It was tough to go through that stuff and ultimately, I had my heart broken. But to go back and watch her interact with these other guys was healthy for me in terms of getting over the relationship."