NEWS
Does Emily Maynard End Up Alone on 'The Bachelorette' Season Finale? Watch Preview!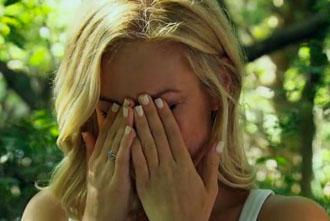 We all love The Bachelorette star Emily Maynard and want her to end up happy and in love with the man of her dreams. But after watching last night's preview of the season finale — which airs on Sunday, July 22 — it doesn't look like Emily chooses between Jef Holm and Arie Luyendyk Jr.!
In the preview clip, a distraught Emily sits down with host Chris Harrison and basically confesses that she's not sure either Jef or Arie is the man for her.
Article continues below advertisement
OK! NEWS: BACHELORETTE RECAP: EMILY MAYNARD BREAKS DOWN AT THE ROSE CREMONY AFTER SENDING SEAN HOME
"The fact that I still don't know who the guy for me is makes me wonder if any guy here is for me," a heartbroken Emily reveals. "I'm so confused... I don't know where my heart is anymore."
That's when Chris takes a stand and tells Emily that it appears she's made up her mind and she's "done."
"Sounds like you know what you want to do and probably need to do today," Chris tells Emily. "You feel like at this point, you're betraying both of them.... Well, your mind is made up here, you are done."
Wait, WHAT?! We know Emily is struggling with her decision, but should she really give up on love all together when she has two men who are completely in love with her, begging for her hand in marriage?
OK! NEWS: EMILY MAYNARD & BRAD WOMACK: THEIR SHOCKING REUNION!
"I don't even know how to start the conversation. I don't know what to say... it's different now," a teary-eyed Emily says in the clip. "The hardest thing about today is actually saying the words… 'I don't know anymore.'"
Wow, by the looks, and sound of it, Emily might just end up alone at the end of her Bachelorette journey! Will she choose between Jef and Arie or go home a single mom, once again?
Watch the preview below!