NEWS
'The Bachelorette' Season 6 Begins Tonight!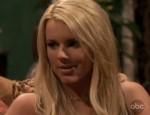 Will Ali Fedotowsky find true love? The sixth season of ABC's The Bachelorette starring Ali kicks off tonight at 9 p.m. After a broken heart on last season's The Bachelor, Ali now has a second chance to search for love. Last season, Ali chose to go home for her job at Facebook, over trying to win Jake Pavelka's affection. This 25-year-old beauty from Williamstown, Mass. has the chance to select from 25 men across the country. What a lucky girl!
Article continues below advertisement
Chris Lambton, 33, landscaper from Cape Cod, Mass.
Chris N. , 29, entrepreneur from Orlando, Fla.
Craig M., 34, in dental sales, from Sarnia, Canada
Craig Robinson, 27, lawyer from Philadelphia, Pa.
Derek, 28, sales manager from Warren, Mich.
Derrick, 27, construction engineer from San Diego, Calif.
Frank Neuschaefer, 31, retail manager, from Geneva, Ill.
Hunter Wagner, 28, internet account executive from San Antonio, Texas
Article continues below advertisement
Jason, 27, construction consultant from Denver, Colo.
Jay, 29, lawyer from Barrington, R.I.
Jesse Beck, 24, general contractor from Peculiar, Mo.
John Crivello, 32, in hotel business development, from Issaquah, Wash.
John N, 27, in engineering software sales, from Wichita, Kan.
Jonathan Novack, 30, weatherman from Houston, Texas
Justin Rego, 26, entertainment wrestler from Toronto, Canada
Kasey Kahl, 27, advertising account executive from Clovis, Calif.
Kirk DeWindt, 27, sales consultant from Green Bay, Wis.
Kyle, 26, outdoorsman from Highlands Ranch, Colo.
Phil, 30, investment manager from Chicago, Ill.
Roberto Martinez, 26, insurance agent from Charleston, S.C.
Steve Kocsis, 28, sales representative from Cleveland, Ohio
Ty Brown, 31, in medical sales, from Nashville, Tenn.
Tyler Morrow, 25, catering manager from Austin, TX
Tyler Vermette, 25, in online advertising, from Chelsea, Vt.
Make sure you tune in tonight at 9 p.m. to find out which 15 guys receive roses and which 10 go home!
WATCH A SNEAK PEEK:
By Alyssa Metsky