NEWS
Inside Ali Fedotowsky's "Tumultuous" New Season of 'The Bachelorette'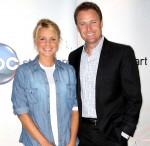 It looks like Ali Fedotowsky regrets choosing her career over Jake Pavelka in The Bachelor, since the single gal has now decided to put love first, in a "tumultuous" new season of The Bachelorette.
Host Chris Harrison opens up to ET Online about the rumors, betrayals, Ali's own battle with her insecurities — and talk that one of the 25 bachelors had a girlfriend back home.
Article continues below advertisement
"Ali's time as The Bachelorette was tumultuous to say the least," says Chris. "It was a tough run for her. The more I got to know her … everybody brings their baggage, whether it is Jake Pavelka or Andrew Firestone … you bring your life and your history. Part of Ali's is that she is insecure, and her fear was that she wasn't going to be loved back."
"There were things she had to deal with along the way that reinforced that fear, so it was really interesting for her to have that fear, have it realized and have to deal with it," says Chris.
OK! NEWS: BACHELOR JAKE PAVELKA & VIENNA GIRARDI'S BABY-MAKING PLANS
So, was she the correct pick to succeed Jillian Harris? "In the end, she did a great job and she was a phenomenal Bachelorette," says Chris. "I hate to say it, because I have said it before, but it was one of our best seasons we have ever had. It is a phenomenal season from the storylines, to Ali, to the travel, to the guys."
Is Ali very different to previous bachelorettes? "Completely and utterly," says Chris. "That is one of the great things about this show. The concept is the same every season: one guy or one girl and 25 guys or girls and mayhem ensues.
Article continues below advertisement
OK! NEWS: TRISTA & RYAN THROW A DREAM PARTY
"It is so different every time. Jillian and Ali couldn't be more polar opposites. You don't bring the same history, your families are different and your fears are different. Jillian was so confident in many things where Ali is insecure and vice versa.
"Ali is a very independent, emotionally strong, and heart-on-her-sleeve… one thing about Ali is you never wonder what she is thinking. Is she into a guy? She doesn't fake it. She isn't one of those, 'Oh, for the show, we'll keep it going.' No. If she doesn't like somebody, you will know.
OK! NEWS: TRISTA SUTTER: HAPPINESS IS MOTHERHOOD
Chris also describes the batch of single guys Ali has to choose from. "Probably the closest-knit group since Trista's then Rehn, now Sutter season, our first Bachelorette, where it felt like this close-knit fraternity.
"A good group of guys overall. Sometimes that can be a bad thing because they start paling around — one thing I have learned is you get two or more guys in a room and it turns into high school — because guys are not bright.
Article continues below advertisement
OK! VIDEO: BACHELORETTE JILLIAN HARRIS' HOT DOG THEORY ON MEN
"Seriously, you get three guys together and it is like a frat house. You could be a doctor, you could be 40 years old, and all of a sudden you are doing keg stands. They built this bond and that is a tough thing for the girls to deal with because, 'Hey, I am here. Look at me'."
Chris found himself engulfed in a controversy when The Bachelor hopeful Rozlyn Papa accused him of inappropriate behavior. Has that been repeated this season?
OK! NEWS: CHRIS HARRISON: "I'M MOVING ON FROM ROZLYN PAPA"
"I am rarely accused of hitting on the guys," jokes Chris. "I like it when it is The Bachelorette only because I don't have to be so delicate with them. I think being Southern and a gentleman, it is pounded in my head to treat women a certain way.
"I don't care what Rozlyn does, I am not going to beat her up on TV, or otherwise. I don't have it in me to be that mean guy. With the guys, I don't care. Screw them! It is a bunch of guys: Make them shower outside, make them do whatever. I love it when it is The Bachelorette, because I am protecting a woman, who is like my little sister.
Article continues below advertisement
OK! NEWS: BACHELOR GIRLS SPILL ABOUT ROZLYN PAPA'S OFF-AIR FLING
"I care about them. You guys I don't really care about. You can fend for yourself. In that respect, it is fun. Also, I am very careful not to be around the Bachelorettes as much. When it is the guys, especially when we were traveling around the world this time, I traveled with the guys. I hung out with them.
"We were in Istanbul and I hung out with them in their hotel room and we had a few beers. You can shoot the bull. I would never do that with the girls. Just for perception's sake, I would never allow that to happen."
OK! NEWS: JAKE PAVELKA: CHARLIE O'CONNELL & SARAH BRICE'S SPLIT SUCKS
The franchise is famous for its stunning locations and this season is no different. So how was the travel? "It hurt. It took years off of my life in airports," says Chris. "Last season was The Bachelor: On the Wings of Love. This would be The Bachelorette: Airports and Volcanoes. That volcano killed us.
"We went from L.A. to New York to Iceland. It was a pretty date. Luckily, we beat it out of Europe. Literally, within hours of the first time the volcano went off.
OK! EXCLUSIVE: THE NEXT BACHELOR WEDDING BELONGS TO JILLIAN & ED
"We literally flew over it and by the time we landed, we were told that Europe had been shut down. Then over to Turkey and Lisbon. It is like the third or fourth character on the show this year: Ali and the guys and the concept and the travel."
The Bachelorette premieres on Monday, May 24 at 9pm on ABC.