NEWS
'Bachelorette' Star Emily Maynard Battling It Out With Her Late Fiancé's Parents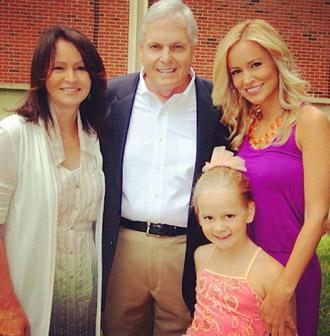 Article continues below advertisement
"It started when Emily was talked into going to Europe to shoot," an insider tells OK!. "The original plan was to shoot it all in North Carolina so that she wouldn't have to disrupt her daughter's life. But then they decided that it wasn't exciting enough and they suddenly added a huge European component."
And, thus, a screaming match ensued.
Emily's fiancé Ricky was tragically killed in a plane crash before Emily found out she was pregnant in 2004, and Emily has been close with Rick and Linda since she was 15 — which is why she was so upset about being frozen out of the family.
OK! NEWS: THE BACHELORETTE STAR KALON MCMAHON'S BIG LIE TO EMILY MAYNARD!
"Emily is grateful for everything they've done for her and she does love them, but she also resents being told what she can and can't do with her life," says the insider. "Still, she was pretty hysterical and almost backed out of the trip to Europe, but producers convinced her to go ahead with the plan."
FOR MORE ON EMILY'S SITUATION WITH RICK & LINDA HENDRICK, PICK UP THE NEW ISSUE OF OK! IN STORES NOW!