NEWS
Bachelorette's Ashley Hebert & J.P. Rosenbaum: "Courtney Wasn't Edited, She Said Those Things"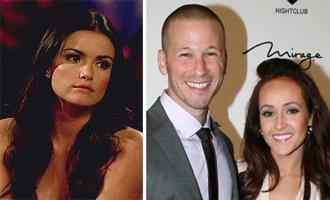 Article continues below advertisement
"She said those things. You can't edit... 'Winning!'" Ashley told reporters at KIIS FM Semi-Annual Pick-Your-Purse Party with Ryan Seacrest on the rooftop at the Hotel Shangri-la in Santa Monica, Calif., last night. "Those things came out of her mouth," J.P. added.
As for whether or not they believed her apology to Ben and the other women, both Ashley and J.P. said they have to give her the benefit on the doubt.
"She made an effort, right? She said, 'I am sorry.' What more can she do at this point? Nothing," J.P. told OK! at the event. "These girls were there. Only they know what really happened. What else can you expect from the girl? She manned up and she apologized. I have to give her credit for that."
And Ashley chimed in, "As much as I am a viewer as anyone else is a viewer, I try and give her the benefit of the doubt because of my personal experience."
Article continues below advertisement
So, do they think Ben will choose Courtney over Lindzi Cox in the end? Possibly.
"I think first impression was terrible," J.P. explained of Courtney. "It looks like she's a villain and that she is manipulating him. It looks bad. It looks really bad," he added.
OK! NEWS: BACHELOR STAR KACIE BOGUSKIE THINKS BEN FLAJNIK AND "TWO-SIDED" COURTNEY ROBERTSON'S RELATIONSHIP WON'T LAST
"But Ben is seeing all of this for the first time and I am sure if they are together, they are going through some major s**t, excuse me," J.P. admitted. "I wouldn't pick her for him, but then again, I don't see everything."
J.P. also said that if Ben is in fact with Courtney, we'll all have to wait and see what happens after the finale airs and their real-life relationship can begin, saying "they definitely have a chance."
"I think Ben is going to make a good decision for him," Ashley added.
For more with Ashley, check out this video from SheKnows.com: