NEWS
The Backstreet Boys Have Been Acting Weird Lately—Come See What We Mean!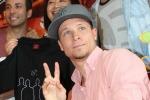 Article continues below advertisement
Then they held this funny interview with New York magazine's Vulture, in which they guessed who said a bunch of old quotes from interviews. Oh, and they answered only in five-part harmonies.
They performed their new song, "Permanent Stain" on Good Morning America. That's not a super-weird thing to do, obviously—it's more that the title and concept are kind of gross. "You left a permanent stain on my heart" goes the chorus, and while we get the sentiment, we're wondering if there's any better way to say?
US News | Weird News | More ABC News Videos
What do you think is going on with the Backstreet Boys? Do you think you'd go to see them on tour? Do you like their new song? Tell us in the comments below? Tell us in the comments below or tweet us @OKMagazine.