NEWS
OK! Exclusive: Boyz II Men Talk First Dances, Dethorning Roses and Of Course: White Jeans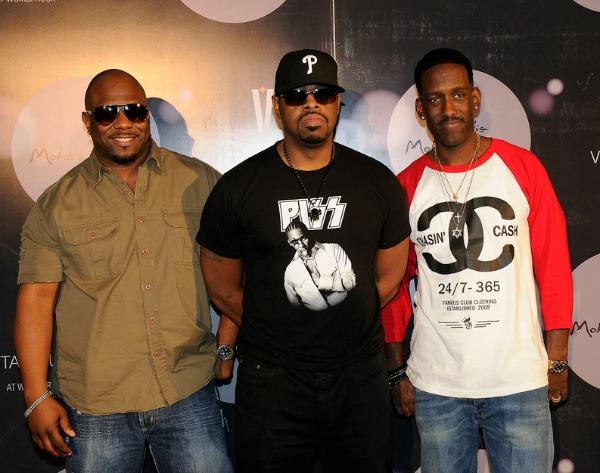 As Boyz II Men said themselves this week, "the package has been ripped open!". The Package Tour is here for the summer and I for one could not be more excited. I was thrilled to catch opening night of the jam-packed, and hottie-packed tour at Mohegan Sun in Connecticut. The tour consists of Boyz II Men, 98 Degrees and New Kids on the Block and is almost four hours full of love songs, dance songs and most importantly 90's songs.
Article continues below advertisement
OK! News: Get the scoop on The Package Tour!
I caught up with Wanya Morris, Nathan Morris and Shawn Stockman to chat about the tour, becoming friends with the other guys, their first dances and the Old Navy commercial we're all talking about.
OK!: The tour has started!! How does it feel?
Wanya Morris: Feels wonderful, thank you.
Nathan Morris: How did you like it?
OK!: LOVED it! It was so fun. Did you guys have fun?
NM: It was great, it was awesome. It can only get better for us as far as our performance and just trying to give it our all and keep the fans happy. It's the beginning of the tour so we're just feeling our way, but we know the direction we want to go now and we're excited to give them everything we got.
OK!: America is ready!
Shawn Stockman: That's wonderful to know.
Article continues below advertisement
OK!: Is there something on tour like a city or a food you're looking forward to?
WM: No, not necessarily. I think that one thing we're looking forward to is just reconnecting with our fans. We haven't seen them in this capacity in a long time and to be able to be in front of their faces and share the energy, the emotions and the music. It's gonna be an awesome thing and we're just looking forward to touching everybody.
OK!: Speaking of touching—you hand out roses to some lucky ladies in the crowd during the show. Do you highly trust the person that dethorns the roses for you?
NM: You know what, we have one of the greatest dethorners ever. His name is John Lopez.
SS: He's been with us the longest.
NM: He's the only guy that's been on our staff since 1991 and if he can't dethorn roses by now then we got a problem.
SS: He's a primo dethorner. Top notch.
Article continues below advertisement
NM: Yeah that's what he does.
OK!: Is that really his job?
NM: It's not his only job, but he does it.
OK! News: 5 Butt-kicking Will Smith moments
OK!: Now, I had my very first slow dance to a Boyz II Men song. Do you remember your first dances?
SS: Mine was in a basement in southwest Philly. One of those house parties, that was my first dance. I think it was "Always and Forever" by Heatwave.
NM: Mine might have been the same song.
WM: I don't even remember my first dance.
SS: I don't remember the exact day, but it was in a basement.
OK!: Mine was in a 6th grade gymnasium.
NM: Yeah, it was In the basement, it was dark and you can't see.
SS: Yeah we had the ghetto party, we had red light bulbs.
OK!: So no teachers telling you to keep space in between?
All: NO! No, no.
NM: Yeah nobody like "keep that space, arms length!"
Article continues below advertisement
OK!: After seeing the show I am immediately adding "Motown Philly" to all my playlists where it should've been already. But what have you been listening to lately that you're enjoying?
WM: I'm digging Miguel's album. I'm loving Wale's song "Bad", I love that record. It's a dope record. I think I'm just looking for music that stimulates. Anything that stimulates the artistic value, I'm digging it. I'm not into the same type of music over and over again. You go to certain clubs and all the music sounds the same. I'm just looking for that difference that's gonna be make you be like "Oh!"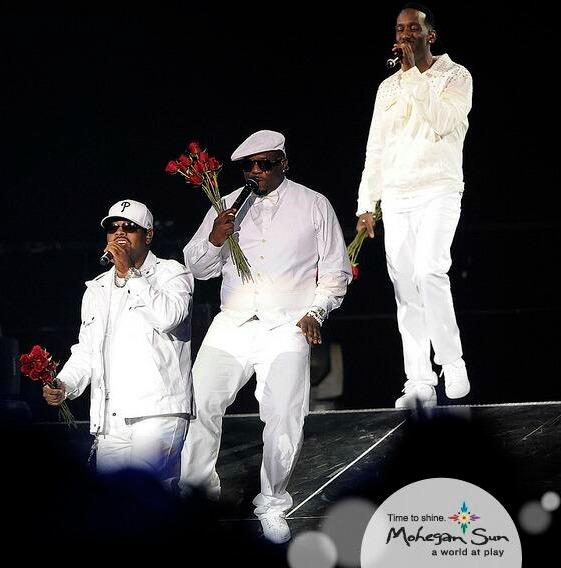 OK!: With all the guys on this tour, who have you become besties with from the other groups?
NM: Different guys off and on but it's the first week so eventually we'll start to hang out and do a lot more stuff. We did a couple interviews together at the beginning when we first started to get to know everybody. We've seen everybody in passing, but now we're starting to get close. We had a lot of interaction with Donnie Wahlberg. We also had some interaction with Jordan Knight because he's the one that got us into the Old Navy thing. And props to Jordan for that.
OK!: You know what? We love white jeans on YOU!
All: (laughs) Thank you very much!!
OK! News: Beyonce has a new Tumblr post!
Boyz II Men are currently working on a new album and will return to their residency at the Mirage in Las Vegas in August! For more information check out BoyzIIMen.com
Plus check out Mohegan Sun for tons of fun concerts and events all summer long!
We want to know—what song did you have your first slow dance to? Tell us in the comments below or on Twitter @OKMagazine.