NEWS
OK! Exclusive: The Band Perry Talks Summer Tour with Brad Paisley & Their Hygiene Routine!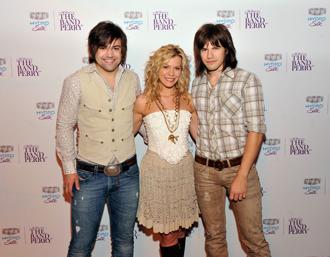 Article continues below advertisement
"It's fantastic!" Kimberly said of touring with Brad.
"He's known for his pranks, but he's actually throwing some pretty good parties as well," Reid added. "The last one he rented out a theater and we watched The Avengers."
Brad even brought a petting zoo into the arena one night, complete with miniature ponies and chickens, the band revealed.
"Brad is a big kid and he's such a hero of ours," Kimberly gushed. "He's just one of our favorite entertainers, he's the best at that."
The Band Perry is also super excited to be working with Schick, who is touring with the country crooners all summer long!
"The Schick Hydro Silk folks are going to come out and have water themed events on site at the shows. Everything from misters to some interactive stuff," Kimberly shared.
Neil let us know that fans will be able to take virtual pictures with the band and then head on over to the Schick Hydro Silk Facebook page to check them out after the show.
Article continues below advertisement
"There will also be some cool giveaways," Neil added, "They're giving away guitars, boots and some tablet computers too, so some pretty cool stuff."
As for how the group feels about their huge new stock of razors, they're excited to use them, especially Neil, who apparently grows a beard like there's no tomorrow!
"I've got like the toughest beard in the world, so it takes me like double the amount of time that Reid takes to shave," Neil explained.
"He has like a five o'clock shadow at like noon!" Reid joked. "Neil takes longer than any of us to get ready."
But turns out their "simple" sister Kimberly knows the truth! "Reid and Neil shower once a week!" she revealed, laughing, "If they need it or not!"
OK! GALLERY: THE BAND PERRY & BRUNO MARS POSE PRETTY AT THE GRAMMY NOMINATION CONCERT
And it sounds like the boys are tossing showers aside so they can spend more time in the studio wrapping up their sophomore album, which is "halfway done."
Article continues below advertisement
"We're going to go back and finish it up with Rick Rubin," Reid said of working with Johnny Cash's former mentor.
"I'm excited about playing new songs live," Neil added. "And hoping the fans will latch on to the songs and take them to heart. "
"That and continuing to find our new voice and our new sound and building upon it," Kimberly explained. "It's exciting and we certainly feel the responsibilities and the pressure to deliver. So I'll be excited once we finish the record and we're really proud of it."
We can't wait to hear it!